VMCC Burton Section - Easy Does It Run - 4th July 2021
---
David Giles has sent as a nice report on the Easy Does It Run that reads that the route was good and quite lucky with the weather. We also have a couple of photographs that Mick Leach has sent also. Eddy
---
'Gentlemen Start your Engines', that's not actually what Mick Leach our run leader for the day said, but I would have found it apposite had he done so as this was my first Section run since the dreaded 'Shut Down'. What I think he actually said was, 'Are we ready? let's go then!' and 8 of us lead by Mick on his Ariel turned left out of the Marston Social Club car park and headed into the countryside in a generally northerly direction of Carsington Water.
The weather forecast had been 'heavy showers' and at times on the day before these had been torrential. Ask Mick, he had been on the National Rally, and had needed dry boots and over-trousers to lead us today. The first rain drops hit me before I passed under the A38 but had stopped before we turned right for Anslow and Tutbury. Then the sun came out for the rest of the morning. North passing the Salt Box Café took us through the lanes to Longford, Hollington to cross the A52 Ashbourne – Derby road near Ednaston and then on country lanes made narrower by the profusion of the road side grass and hedges to A 517 Ashbourne – Belper road which we crossed near Bradley Hall. Our drop-off navigation system was working well: Mick Waterfield on his Honda was last man and in between were myself - C12; Ray - Barracuda; John - 200 Honda; Doug – C15, Walter 250 Moto- Guzzi; and Jim on a Norton. We travelled one mile to the East on the A52 (our only use of a main road during the whole day) then took a left and left again to take us through the little frequented hamlet of Atlow and on to our pub lunch stop at the Red Lion in Hognaston, which as the crow flies is only ½ mile West of Carsington Water. We didn't stay long, I thought their only menu was frankly just pretentious, and by common assent we moved on. Future run leader please note: post Covid things appear to have changed.
Jim bump started his Norton to start us off on our second half of run: we pass the peculiar shaped radio beacon to our left on Hognaston Winn, before dropping down into Kniveton to take the narrow byway through a tunnel of overhanging trees and puddles that leads one past Offcote Grange and south to the A 517 which we cross to the aptly named Hole in the Wall. As we approach Ostmaston I am startled by a loud blap – blap; it's the sound of heavy rain drops striking my helmet! I fasten my collar more firmly expecting the worse – but it comes to nothing and we ride on in the dry, although there is plenty of evidence of previous rain where mud and gravel have been washed in to the road necessitating caution. We ride steadily South through Osmaston and Rodsley to Sutton on the Hill and Hilton. Its all beautiful countryside taken at a comfortable pace; I don't thing we exceed 40 mph at any point during the day. We use the Marston on Dove byway to bring us into the back of Rolleston on Dove, then Anslow again, to bring us back to Marston's car park – my speedometer made it a total of 60 miles. Good company on a good run – Thanks Mick
Dave Giles.
5th July 2021.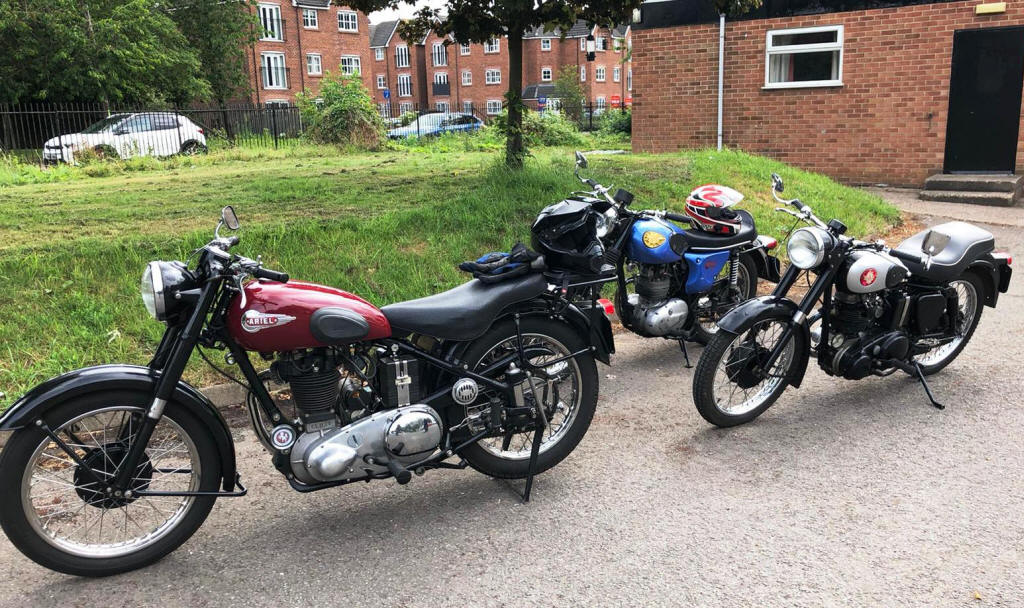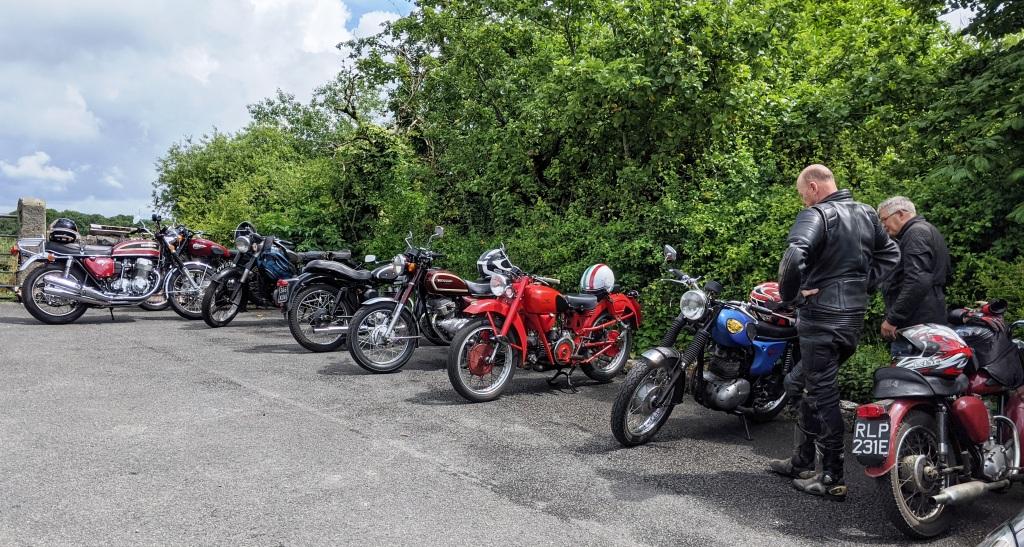 ---