Chat 1
This is how this chat idea started. (Eddy):- John Goodall sent me the email below. I thought it would be a good idea

Might it be possible to have "virtual meetings"? What I was wondering is if one of us wrote a piece about a funny episode or a favourite ride, it might help us all get through this? It might not all need to be about vintage motorcycles either it could be our other hobbies for instance. Mine is modelling model planes and Tether cars and I have loads of photographs I could use from hand-beaten alloy car bodies which I have also used to make vintage bike parts etc, so it can be related? Let me know if you think this is feasible?
I replied>>>

Dear John,
Hope you and yours are all well and remain so for the duration. I think all of us miss the meetings with our like minded motorcycling friends.
A virtual meeting could be a good idea to keep in touch. How do we do it? Off the top of my head two ideas:
I send out an email to everybody on the Burton emailing list. In the email I tell them what we are trying to do and ask them to send what you've got to me by email. I can then compile a daily email with anything that has come in that day and send that out. I could also set up a webpage and put contributions on that so that people could check anytime on the web if there was anything new or catch up if they've missed anything. How does that sound?
Do you have something ready that you could send.?
I checked with our chairman, Mick Dughan who gave a thumbs up to the idea. John Goodhall doesn't have anything to send immediately but will try to send something soon.
If you are interested in doing this put it into an email either by replying to this email or clicking >
edgrew@virginmedia.com
It doesn't have to be a long message, Just a few lines would do to say what you'd been doing e.g. fitted a new tyre, found the cause of that misfire, got backache sorting the garden out or whatever. Include a photograph if you have one, "a pictures worth a thousand words".
Put your name in the email or I will not publish it and I reserve the right to not publish anything "unsuitable".

Here are a couple of posts for today:
----------------------------------------------------------------------------------------------------------------------------------------------------------------------------------------------------------------------------------------------------

Posted by Eddy Grew 27/03/2020
The rear chain guard is quite good on my Vincent Rapide but a little project I have had in mind for quite a while was to devise a small guard to protect the bottom run of the chain.

I think an Ariels Square Four I bought in 1969 had a small guard for the bottom chain run.

Quite a few modern bikes have plastic chain guards.

They are light and don't need painting.

I had a piece of black plastic drainpipe in the shed so I thought I would experiment with that.

I cut off a short piece and warmed it with a hot air gun and then gradually squashed it in the vice between two lengths of wood.

The first photograph shows how it turned out.

Next, I cut a piece and slotted it lengthwise then when it was warm and pliable I flattened it out.

I found a piece of wood of a suitable thickness and rounded one edge and then used this as a former to bend the hot plastic over to give me a "U" shaped piece.

I cut this to the length required and used a piece of thin steel sheet to attach it to torque arm of the right-hand rear brake.

Taken from the left and right-hand sides, the two photographs below show the guard fitted.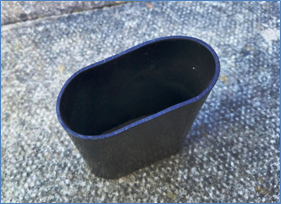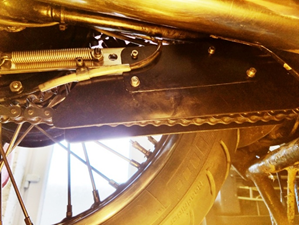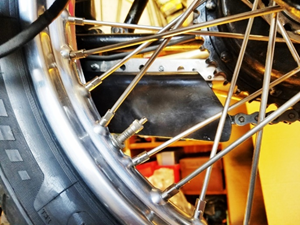 -------------------------------------------------------------------------------------------------------------------------------------------------
Posted by John Goodall 27/03/2020

How I got into engineering and motor cycles:-
I was born just before WW2 at 91 Henhurst Hill and my first memories of the wartime conflict was seeing Coventry inflame, a vivid red glow on the horizon after bombing by the German Luftwaffe about 1942? My uncle Bill worked for Herberts Machine Tool Co as a foreman and I recall my mother's concern for her brother, he and his family survived fortunately.
Like a lot of wartime youngsters I became very air-minded and by 1945 I could identify most British, allied and German aircraft from silhouette wall posters my father brought home from the ARP of which he was a spare time Air Warden. I could also identify friend or foe by engine sound. My dad had placed sandbags in the front porch and over the hallway of our bungalow on the top of Henhurst Hill opposite Aviation Lane. We took refuge in the hall when we heard German planes overhead, we never had a problem for all that effort, however. Why my dad thought the attack would come from the front I still don't know?
It was natural when my elder brother Jim built a model aircraft just after the war, a Keil Kraft Southerner Mite of about 32-inch wingspan. I took great interest and could not wait until it flew, but what fascinated me most was the engine that powered it, an ED Bee of 1cc. I could not understand how something so small could actually run and drive the propeller to power the model, but it did eventually. It was compression ignition and a two-stroke usually, but wrongly called diesels these days and ran on a mixture of paraffin, ether and oil in about 50, 20 and 30 % ratios respectively.
Inspired by my brother, I started to build chuck gliders I was then about six years old progressed onto towline gliders, rubber powered and finally diesel-powered models becoming reasonably adept and able to build successful models and by the time I was eleven built my first power model a Keil Kraft Slicker of 42inch wingspan which I seem to recall was powered by a Mills 1.3cc engine loaned by brother Jim. I joined the Burton Model Flying Club about this time becoming their youngest member at the time, they used a flying site on top at Sinai Park Farm over looking Burton. I lost the Slicker when it flew off in a thermal and was soon out of sight heading towards Shobnall. I had my name and address on it and was surprised when my old Head Master from Shobnall Road School which I had just left, knocked on the door to return my model which had landed in the schoolyard under the playground shelter. Lucky as there was a high brick wall all round the yard?
A few years later I had started work as an apprentice Mechanical Engineer at FNF in Wellington Road who had taken over premises built during the war to make Gun Turrets for Lancaster bombers and they also had a contract for making Bofors Anti-Aircraft Guns. I distinctly remember the Delapena honing machine of about 15 feet capacity for this gun barrel. FNF were set up to make High-Speed Knitting machinery and apprentices were expected to gain experience in all areas of engineering from fitting to all types of machine tools operation including gear cutting usually six months in each department. My last twelve months was working on precision turning in the Tool Room. My modelling activities still carried on apace and they had helped me to understand drawings in particular and construction methods, materials and using tools in cutting metal, filing, bending wire and soldering etc. A brilliant hobby that did me proud in my engineering lifetime.
I was by now building Control Line models which flew round in circles at the end of two wires secured to a handle and the model's elevator which allowed control of the model to fly loops, bunts, figure of eights, inverted flight and wingovers etc, but this was after a lot of broken models?? I bought my first Motor Cycle about this time a 1954 James Comet and used this to ride to work for a year or two and also to get to Night School in order to improve my qualifications.
It was not long before I met a young fellow model enthusiast named Glyn Hall from Newhall after the Burton MFC had moved to Clarence Street School in Burton. Glyn is still a very good friend today. We used to meet and fly regularly together and eventually ride bikes with a friend of Glyns Trevor Mear who lived in Swadlincote, another aeromodeller would you believe? Trever ended up after several £5 bikes tied together with string, with a Velocette Venom having started an apprenticeship at Rolls Royce in Derby. I had bought a Triumph Tiger Cub back in 1957 from Slater and Adams in Ashby De La Zouch and it was making rather funny noises from the big end after thirty thousand miles in two years, so it was part exchanged for a 1957 Velocette Viper from Macton Motors in Derby owned by Peter McManus with his partner Harry Tunnelly. I am not sure who got the best part of the deal, but it did get me into Velocettes and became part of my life up to the present time.
I still have the Viper now in need of restoration and three other Velocettes my favourite being the 1930 KTT Velocette which is currently under repair after some years with a failing crankcase. This is over ninety years of age now and the alloy has fatigued and cracked ( A bit like it's owner??). I have cast a new timing side from my original case with suitably added padding on all machined faces to give a machining allowance. I hope to have it back on the road in a few months time hopefully.
My early life shaped this avid interest in and for engines, in particular model engines and motorcycle engines, in propeller-driven aircraft and mechanical devices of all types. It has led to other bikes like the Big Port AJS, Mk8 KTT Velocette, Mac Velocette my Honda 400/4 and others which have all give me great pleasure and through the VMCC many good friends. The nicest people ride motorcycles not just Honda's. (With respect to Honda advertising)
=================================================================================================
OK. Now it is up to you to get writing.

Regards, Eddy.
------------------------------
------------------------------
------------------------------
------------------------------
------------------------------
-------