ACU National Road Rally 2021
---
Mick Leach has sent us this report on his ACU National Road Rally ride. I've added my report on a shorter ride at the end. Eddy
Clive Martin and myself had entered the Rally together for the fourth time. We had our route planned to cover 300 miles, 12 legs between 13 checkpoints.
The day before our neighbour a retired farmer told me we were in for a soaking so as purely a recreational motorcyclist I was ill prepared and remembering a recent run with Vic Carrington Porter where we both got very wet that didn't bode well with me.
I woke early on the Saturday morning looked out of the window rang Clive and said we could call it off but he said weather forecasts are not always accurate and if the worst happens we could pull out.
We left Burton at 0900, we figured that if we could average one checkpoint an hour we could achieve our goal. We covered the first two legs in 1hr 35mins but we were already feeling the ingress of water through our clothing. I suggested we could go home but Clive said he thought it was brightening up. I wasn't convinced. We made very steady progress from then, on losing our early advantage. We met a fellow rallyist at Barnsley riding a 1927 Scott who seamed very relaxed having time for a brew. We were unable to make up time on the A1(M) due to an accident and arrivied at Clumber Park our 5th leg in 5 1/2 hours.
The weather started to really improve as we rode into Lincolnshire. We sat in the sunshine at the Wave cafe across the road from RAF Waddington. The roads were smooth and pot hole free as we progressed to Horncastle and Langrick but as we neared Grantham we caught the tail end of a storm. The roads were very wet, but we were making good progress.
We reached Kegworth at 19.10, 10mins behind schedule, the sky was now full and the thunder was really close so we pressed on down the M1 to Leicester avoiding the storm. The Leicester checkpoint was at the Fosse Riders club house where we were made very welcome, we spent a while there chatting and drinking tea and coffee made for us by a lady club member. We rang home and Clive posed for a photo.
The ride back to Burton should have been straightforward but beyond Woodville conditions were difficult due to the reflection of the setting sun on the standing water on the road surface and we had to be careful of elated football fans chanting in the road I think it must have been half time. We arrived back at Shobnall at 21.20, 12hrs 20mins after we set out.
It was a day I will not forget for a long time, a day that would not have happened but for Clive's dogged optimism. NRR July 2 & 3rd 2022. It's in my diary. Mick Leach.
---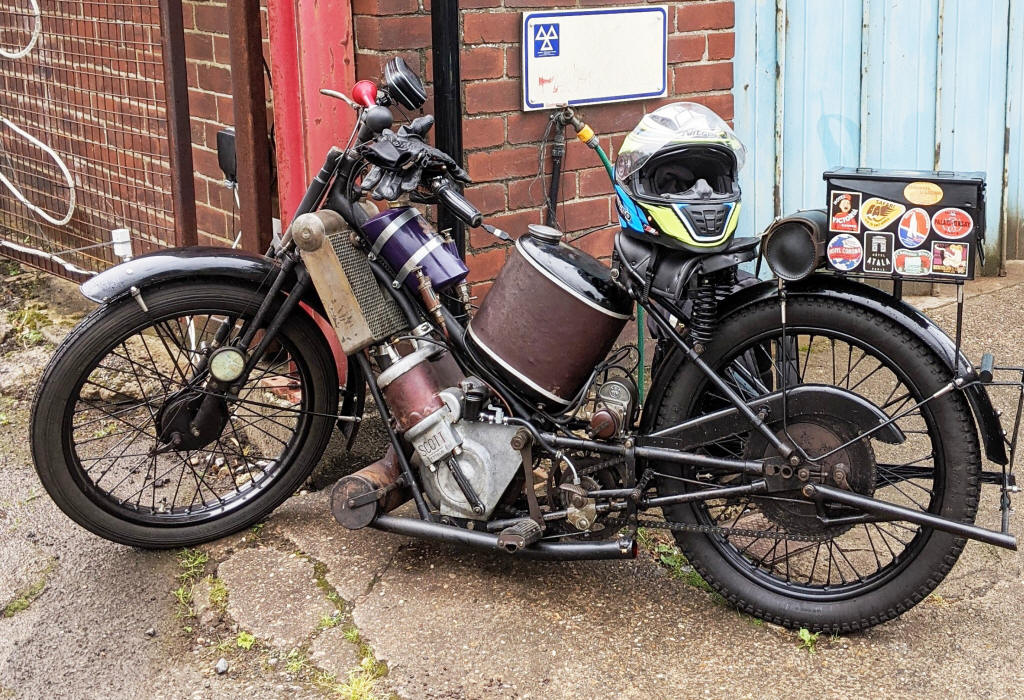 1927 Scott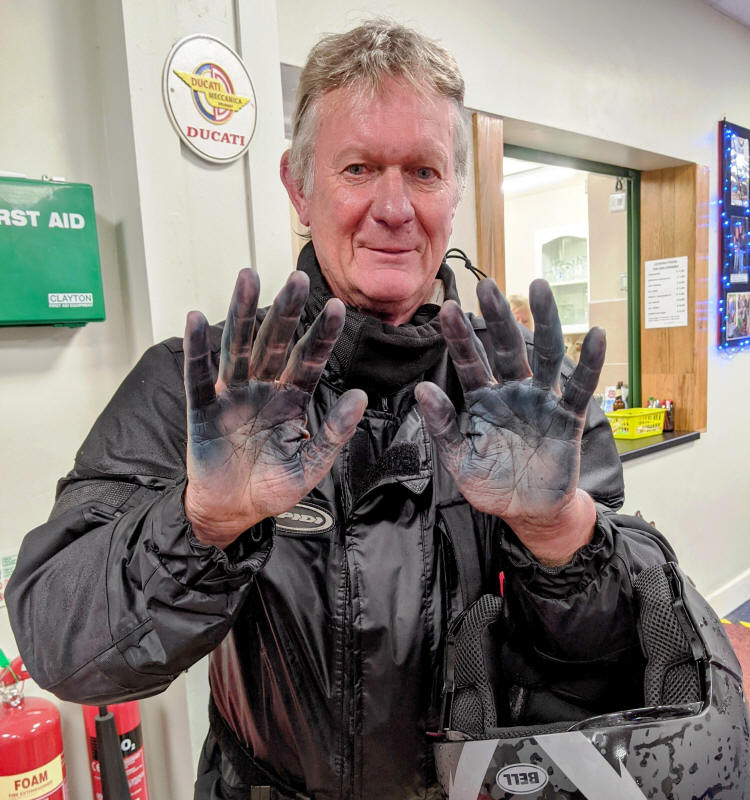 Clive (Wet gloves, black hands)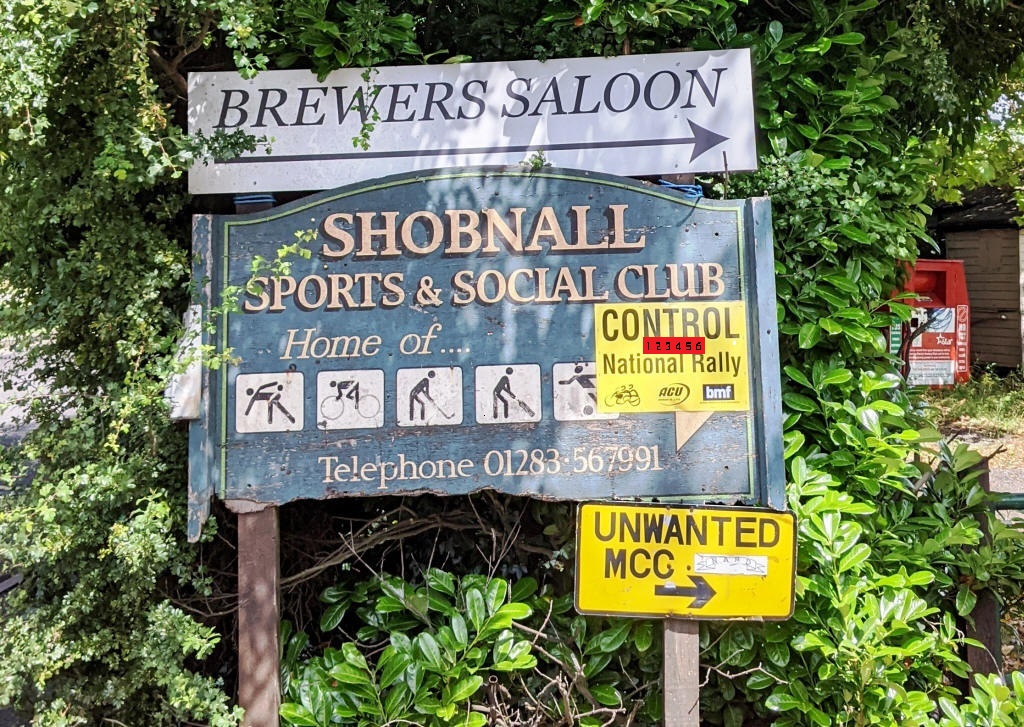 Shobnall Control Point
---
My own National Rally started wet, became dry and then ended abruptly.
I was riding my 1990 CBR1000 Honda and a brother John was riding his Yamaha MT-07 Tracer. We set off from our start point, the Kegworth services, and headed for our first checkpoint in Leicester. This was at the Fosse Riders Club House. We noted down the checkpoint control number on our control sheet and moved, keen to get some miles under our belts. We left the Leicester traffic behind and headed towards Peterborough on the A47. Our next checkpoint was The Hungry Hogs Diner near Belton in Rutland. It was a container in a lay-by at the side of the road where we got a warm welcome and I had a quick chat while John inspected the toilets and drained off some of his breakfast tea. The roads were still very wet and we encountered some quite heavy rain. A few miles further on the rain eased and we found we were on dry roads as we turned off the A47 onto a minor road to find our next checkpoint at a place called Stibbington. We retraced our steps back onto the A47 and headed on towards Peterborough. Shortly afterwards I found myself heading too quickly for the back of line of cars as someone had pulled up suddenly to turn onto a minor side road. I was unable to avoid an accident but managed to stop just before I hit the last vehicle in the queue, a Discovery. The bike was on its side and the front of the bike just slid underneath the rear of the Discovery. The Discovery was unmarked but the tow bar neatly broke the screen and some of the fairing on the Honda. Meanwhile I am lying alongside the bike feeling sorry for myself and more than a little uncomfortable. Several people stopped to see if they could help and the driver of the discovery was most concerned about how I was. Once everyone had cleared the scene John pushed the bikes across the road into the side road where we arranged the rescue vehicle and sat down on a convenient bench, got out our sandwiches and had a picnic while we waited.
Back at home the Honda was pushed into the garage and Gloria took me down to A & E in Nuneaton where they did some x-rays and confirmed that I had broken my left collar bone, the third time I had broken it.
A moments inattention created a disappointing end to a day that I had been really looking forward to. Disappointed at hurting myself, disappointed at damaging my bike but most disappointed that I had missed a day of good riding with my brother.
However, on the plus side I'm still here to tell the tale and look forward to riding again as soon as the collar bone has healed.☺ Eddy.