Yonderman Cafe Run
John Earp tells us about his change of plan that became a good ride out to the Derbyshire Dales. Ed.
Wednesday was the perfect day for a run out on my bike. I was planning a trip to Hoar Park but Mick Leach had also seen the weather was going to be good and had planned a run to the Yonderman Cafe, so I decided to join him on the run.
I was undecided what bike to use but as it was just a 'run out with your mates' I decided to go on my CB500X which I love riding as it will do anything I ask of it and is very frugal with fuel.
I arrived at Tutbury car park around 09.45 am and there were already quite a few bikes assembled, some old, some modern and it didn't matter as we were all there for the run.
10.00 am. Mick had a quick word to tell us we would be using the drop off system and the back man was on a Rocket 3.
Off we went through to Draycot, Sudbury and onto the A515 to Ashbourne then on to Newhaven where the roads became more interesting!
After a few sharp bends and over the river Lathkill at Conksbury Bridge we stopped off at Longstone Edge for a quick break and a photo opportunity. I'd never been here before and the view was outstanding.
Soon we were on our way again to the Cafe whereby some fluke of nature we were in first but got served last, apparently this is par for the course!
Never mind, after our refreshments we were soon on our way again via Chatsworth, towards Bakewell and then a then left turn. We eventually joined the Ashbourne Road with another left after the Knockerdown Pub past Carsington Reservoir towards Ashbourne before a left turn towards Bradley. We went straight over the A52 towards Longford, and over the A50. I'm still not sure why a woman in a white car decided to pull out in front of all of us then just sit in the middle of the road holding everything up until we'd all gone past. I think she'd have carried on with her turn if there had been just one bike but decided she couldn't knock us all off so waited in the middle of the road!
Anyway, as we joined the main Hilton/Hatton Road I waved the other bikes past and said goodbye to Steve, he lives in Derby and returned home on my own.
I'd clocked around 90 miles and used just over 6 litres of Esso Synergy Super Unleaded which I topped back up again on my way home.
(I make that around 68 mpg which is pretty good. I'm averaging around 64 mpg on my Yamaha 700 Tracer according to the reaout on the display. Got to be a good thing the way fuel prices are going. Ed.)
Thanks to Mick for arranging the weather and leading us on such a lovely ride out into the Derbyshire Dales and to the woman in the white car for not pulling out!
John Earp
---
John sent some Photographs and a Video too: Yondermann Video Clip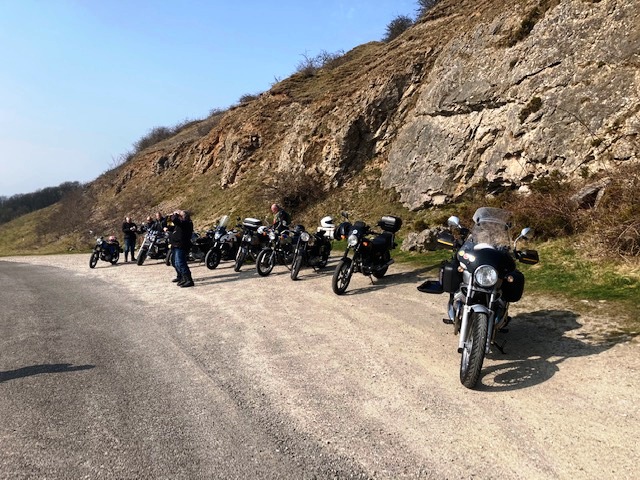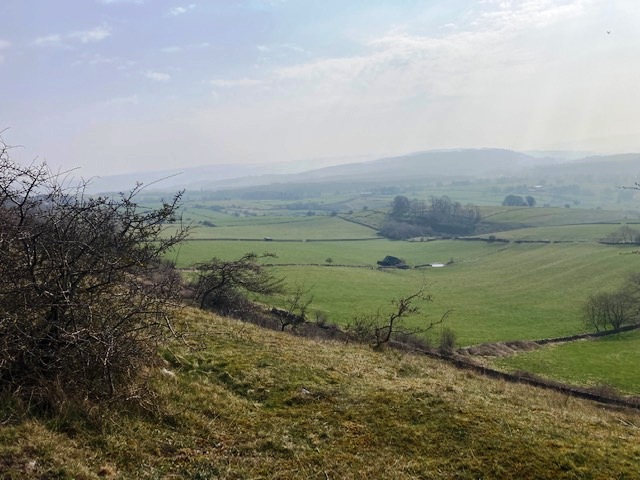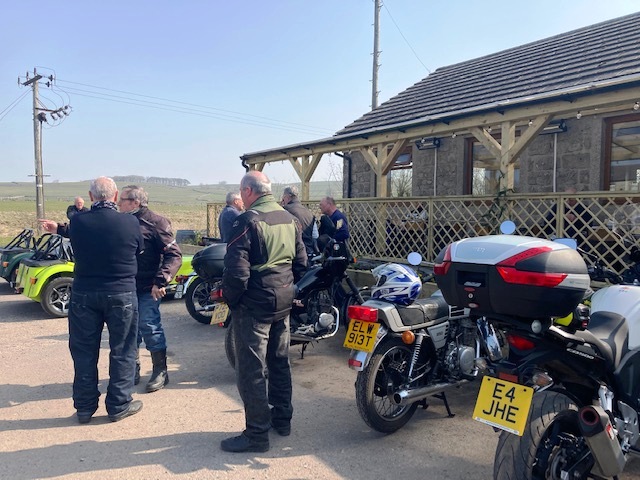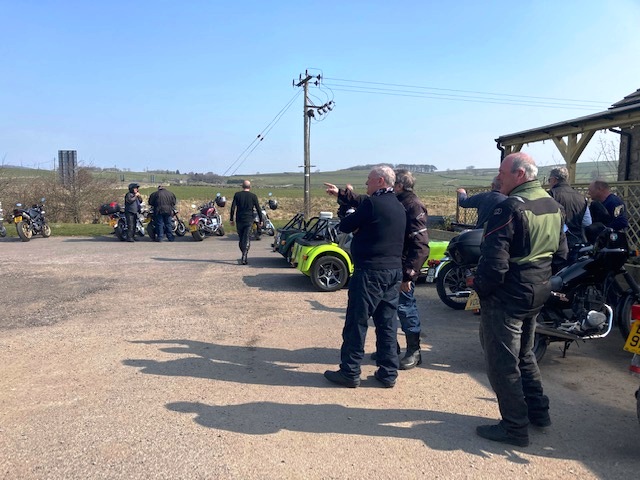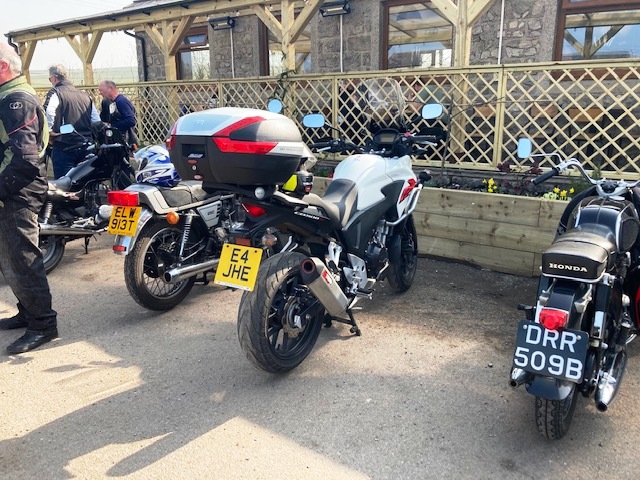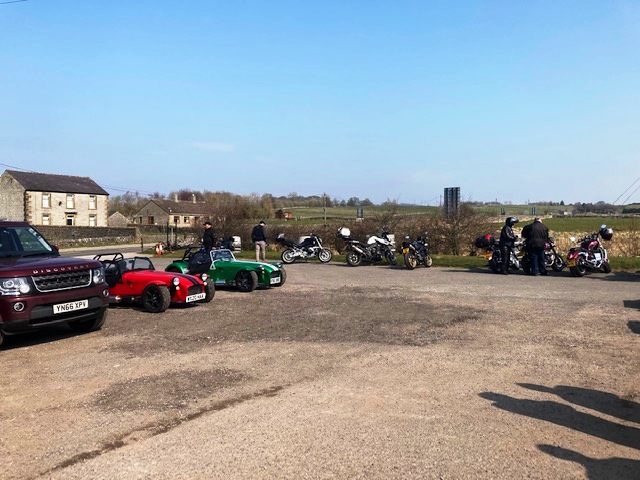 ..... and two photographs from Mike Lea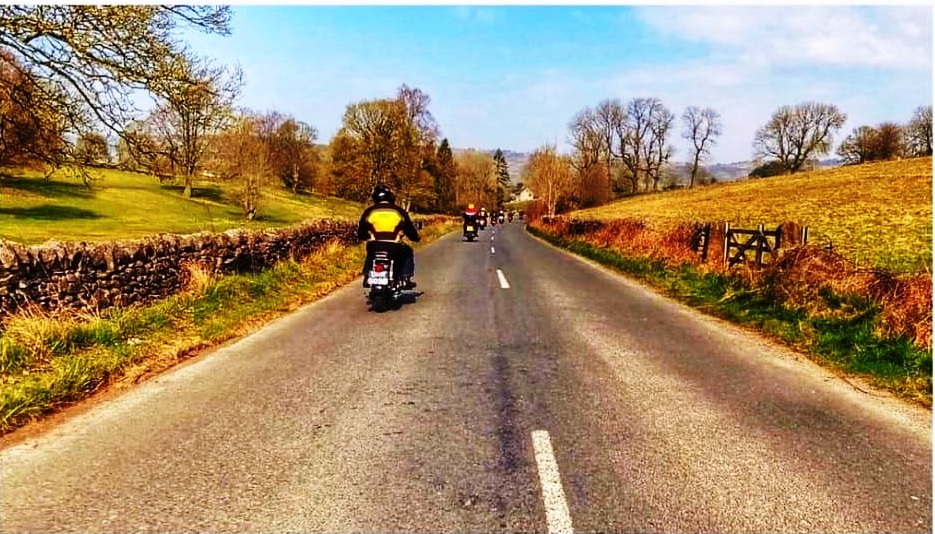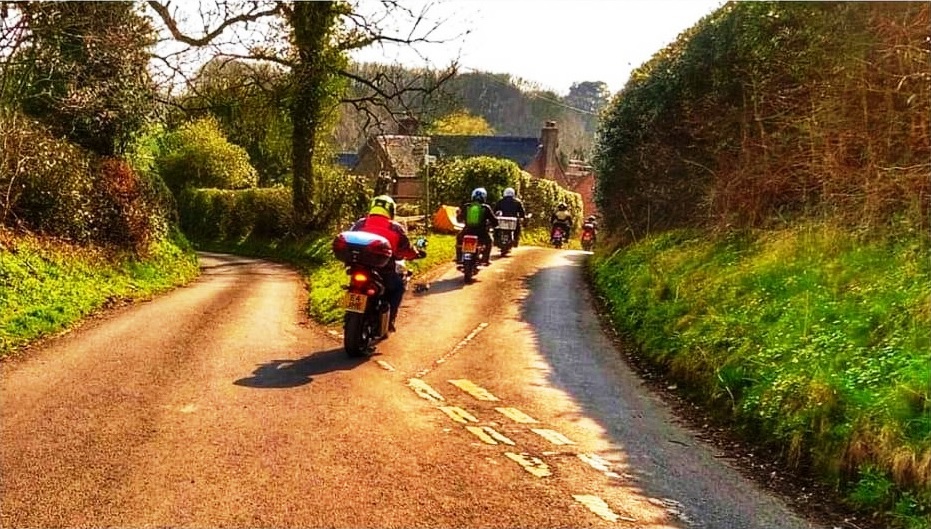 ---