Wednesday Run to Triumph 2022
Bill Mantle puts on another good run with a good number of riders taking advantage of the good weather. A write up from ace reporter John Earp and photographs from John and Brian Slack. Eddy
---
Just a quick write up of a very enjoyable run out last Wednesday morning arranged by Bill Mantle.
As is normal on Bill's runs we assemble at the Whistle Stop Cafe lay-by just off the A444 at 10.00 for a 10.30 start.
Just before departure Bill gave all those assembled a short description of our route and explained we would be using the second man drop off with Andy Roberts 'volunteering' to be last man on his shiny new CB500X with highly visible bright LED front driving lights.
10.30 - off we went over the A42 towards Measham and then a turn right out of Measham towards Market Bosworth past the 'Odd House' pub, now called 'The Old Crown'.
I'm not sure how many were on the run, I should have taken a count but it must have been around 20?
Straight through the centre of Market Bosworth, it was obviously market day judging by the stalls in the town centre and then over the A444 towards Sheepy Magna.
At this point we picked up my Wednesday morning route to Hoar Park - past the Aldi distribution centre and then across the A5 eventually to Furnace End.
Still on the Hoar Park route and just before taking a right turn in the direction of Coventry I was at this point 2nd bike behind Bill and concentrating on whether he was going to take a right turn when out the corner of my eye on my left I noticed a silver VW with the familiar figure of Brian sitting by it pointing an expensive camera at me!!
Thanks for the photos Brian, at least it's not accompanied by a speeding ticket from you! Anyway, we made a right turn off the Hoar Park route and carried on I know not where as this is alien territory for me eventually entering Atherstone and once again picking up the A5 towards the Triumph factory where we stopped for lunch.
After purchasing our food and drinks a few of us sat outside in the sun and spoke to a group of riders from Greece who'd made the pilgrimage to the factory on their 'Triumph's, that's commitment!
After lunch Bill once again called all those returning with him to get ready 'a few riders were returning on their own' so after turning left out of the factory and meandering the back lanes we made yet another visit to Market Bosworth eventually picking up the A444 and back to our start point (on the opposite side of the road) to the Whistle Stop Cafe.
We stopped to say our goodbyes and were all soon on our way home.
I was on my Suzuki Inazuma 250 on which I'd done 101 miles since leaving home that morning and I put in just 4.7 litres of Esso Synergy Super to fill up the tank in Stretton, not much difference to the consumption on my CB500X, I suppose the 250 had to work a bit harder.
Thanks to Bill for organising the run again and Andy our last man and Brian our resident photographer, another great run out! John.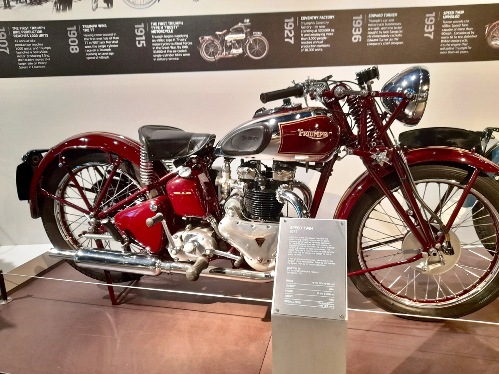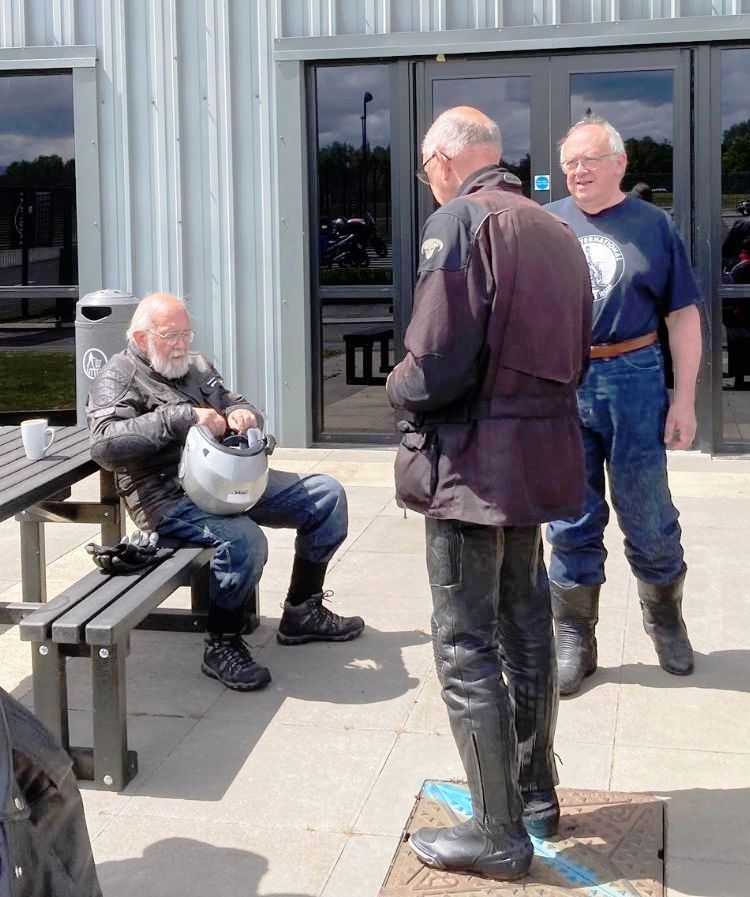 ---
Home | About | Calendar | Contacts| Event Reports | News | Section Notes | Specials-Projects-Mods | Help | About
Copyright © 2022. E. Grew. All Rights Reserved.