Pennine Way Run
Malcolm Bridges has sent this report for the above run. It is a good read with photographs.
---
On the weekend of the 16/17th July I had entered the VMCC Pennine Section, Pennine Way Run, this being the reason I didn't appear at the Hatton Carnival. The event is run every two years and had been something I had thought about doing for some time. Dennis a friend from Chesterfield had done it last time four years ago and asked if I would join him this year. He rode his 1964 Honda CB77 I went on my 1977 Honda CB400F. Two more of Dennis's friends also went, Colin on a mid-50's Ariel Square 4 and Brian on a 1969 Triumph Trophy. A further friend joined us on Sunday morning, Greg on a 1966 Honda CB77. The total entry of about 70 bikes was given on a list along with the 'Tulip' route map. Nine entrants had a pillion rider.
The event starts at Edale and tries to follow the Pennine Way on public roads so zig-zags up the country a little and uses some narrow but always tarmac lanes. The route left Edale over Ladybower and along the Snake Pass before heading for the Woodhead Road and then turning off after the Holme Moss transmitter into 'Last of the Summer Wine' country. Then over Saddleworth Moor into quite a busy area called Greenfield, probably the worst part of the run. Haworth and Bronte Country were next before heading up toward the Ribblehead Viaduct and finally Hawes for our overnight stop. I had covered about 145 miles from Edale and the journey from home to Edale was about 55 miles.
Now a lesson learned. The organisers arrange a social night/meal which Dennis and I decided against when entering due to my Dad's health at the time meaning I was not sure I would do the run so I was prepared to lose the entry fee but not the cost of the meal. I had booked our B&B in Bainbridge 4 miles out of Hawes and expected to get a meal at the local pub. That didn't happen so we had to ride back into Hawes for a meal. On the journey back my bike suddenly lost power then cleared itself, more of this later.
After a good night's sleep and a great breakfast the Sunday section beckoned with a ride back to the start at Hawes and some fuel. The only petrol station for miles is a community one with an electronic card machine out of hours. I joined the queue and when it was my turn went to the machine which decided it had had enough and refused to read my and anyone else's card. The run organiser had some petrol but not enough for everyone so it was 'you are on your own'. I will say at this point there was a recovery vehicle and he had some fuel if anyone broke down. The route stated no fuel before the end but it was said by others there is a fuel station at Alston about 65miles away. I was the only one in our group who hadn't refuelled so Brian offered me some of his. He scoured the waste bins and found an empty 500ml water bottle, two doses to start with. So off we set, today's ride was to Greenhead just beyond Hadrian's Wall, an altogether more rural ride. First off was Buttertub Pass and then Tan Hill Inn that claims to be the highest pub as does the Cat & Fiddle. We then headed towards Bowes for coffee and Barnard Castle but no time for an 'eye test' today. As I said on Saturday night my bike had been losing power and had continued again from around the Buttertub Pass area and appeared to be getting worse. It felt like it was losing one cylinder, bear in mind it has one coil for 2 cylinders so maybe a spark plug? We reached Alston for a welcome refuelling stop I only needed two more doses during the journey. After heading further North and passing through Hadrian's Wall where we didn't stop it was a very narrow road with little room for any more parking and Brian who was leading was in a hurry. We then headed back South to Greenhead for the end with my bike now struggling again and Brian was having Triumph clutch problems too. We had covered 105 miles.
After drinks and cake at Greenhead a short presentation was given, with photos taken during the run, mine didn't feature. There was a tea mug for everyone and a free raffle with using the rider number and I was lucky enough to win a handlebar clock. Our return to Hawes was more direct and a little shorter, a splash and dash of petrol again at Alston but from then on my bike was struggling big time it wouldn't clear at all now so I got left behind. They eventually realised I was missing and waited. After explaining we limped on to Kirkby Stephen for a comfort break and decided to check the plugs, three are easy to remove they were good, one really needs the tank off, points etc appeared good so decided to limp on and Monday before we set off home would remove the tank and expect to find a failed spark plug. The return to Hawes was 83 miles.
On Monday morning after a 20 minute lay in and breakfast Colin and Brian arrived and work on my bike started. The spark plug was black and wet, success? NO! Still the same, more checking revealed no spark from one coil, but only one wet plug, checked LT wire from points okay, checked 12V low tension feed to coil and thought that looks a bit black so gave it a wipe. By this time Brian was saying just call recovery I want to go. We reconnected everything and it immediately fired on four cylinders, SUCCESS!
I had created a route back to Buxton for us all and they decided because I had created it and had problems I should lead which I did, it is difficult to miss all built up areas but I managed to pass through Keighley and Skipton and just skirt round Huddersfield the heat wave was starting to hit and I was feeling a little tense in some of the slow/stationary traffic but we made it. Brian was having a lot of clutch trouble and Colin had a flooding carb at one point. Dennis's CB77 didn't miss a beat. Dennis and I decided to celebrate with a tea at Monyash before going our separate ways. I had covered 154 miles on the day with a total over the three days of 574 miles.
Did I enjoy the weekend? That is a big yes despite the mechanical troubles. Would I do it again? Maybe. Two years is time for the memory to fade a little, the scenery is spectacular the roads are fantastic for riding and the organisation was perfect with a great social feel. I can recommend the event and if anyone would like a copy of the route for future reference let me know. Malcolm.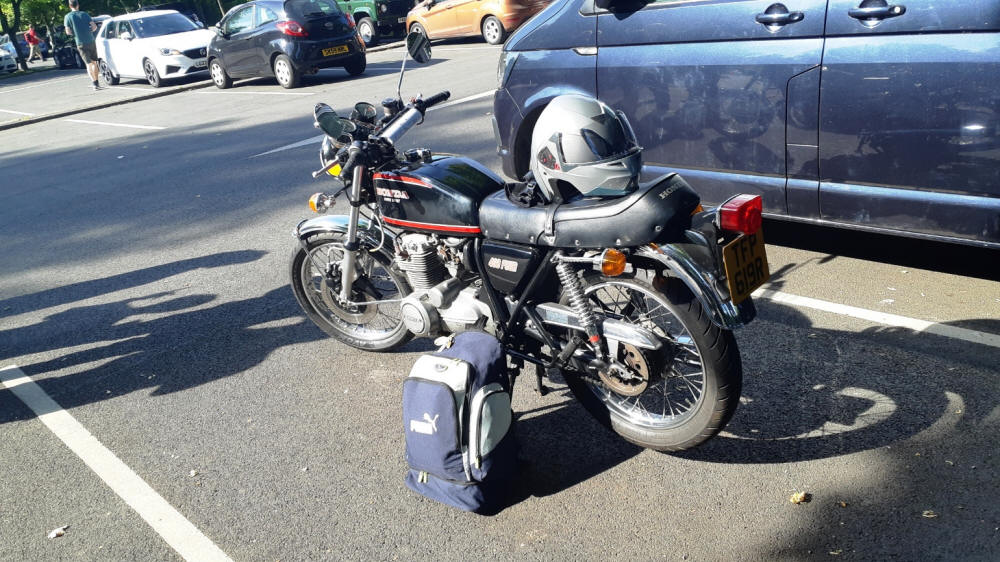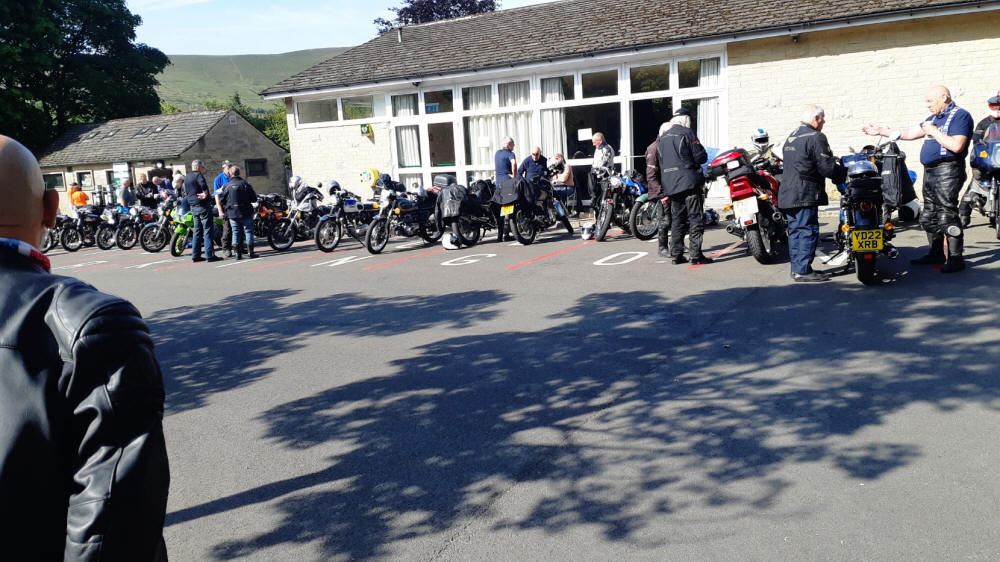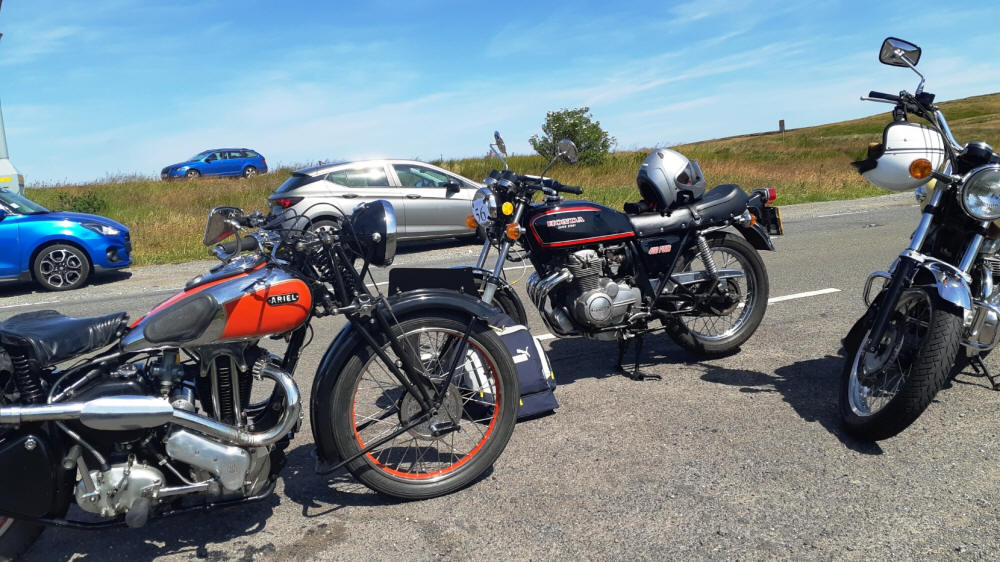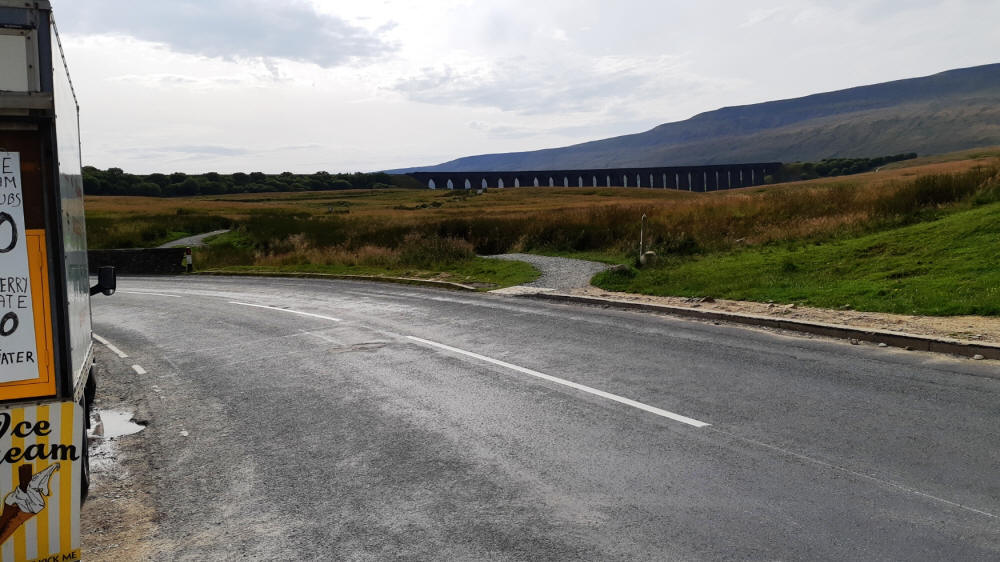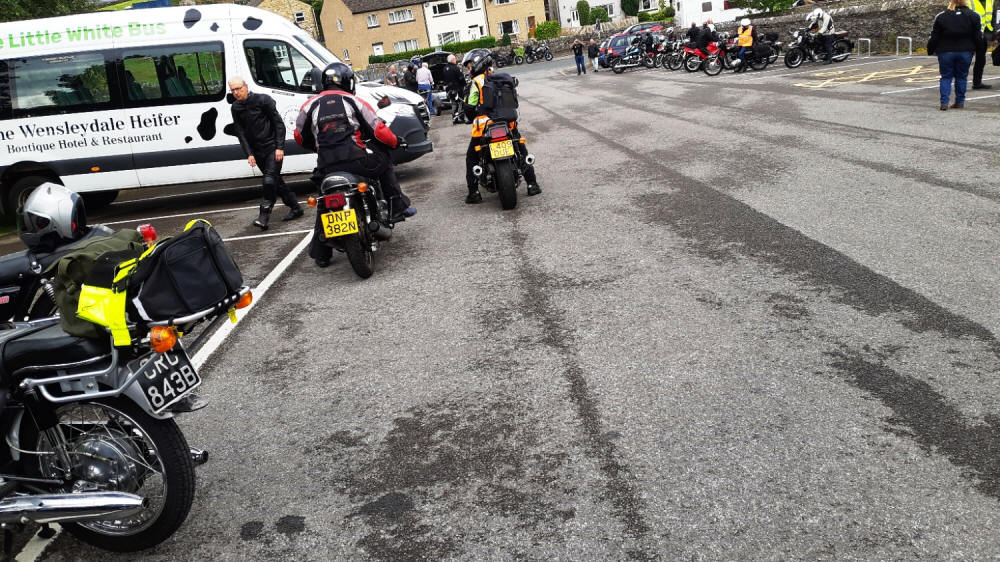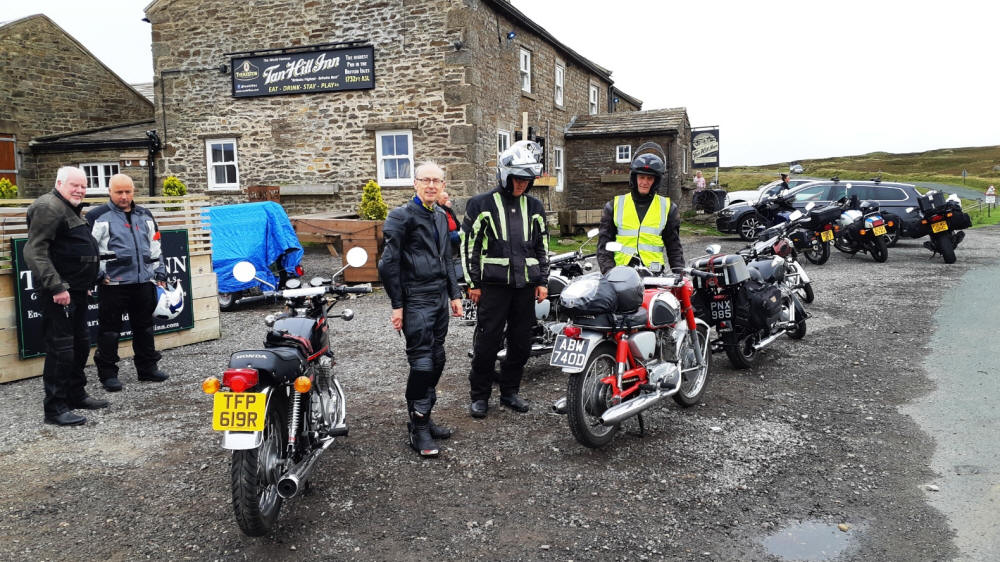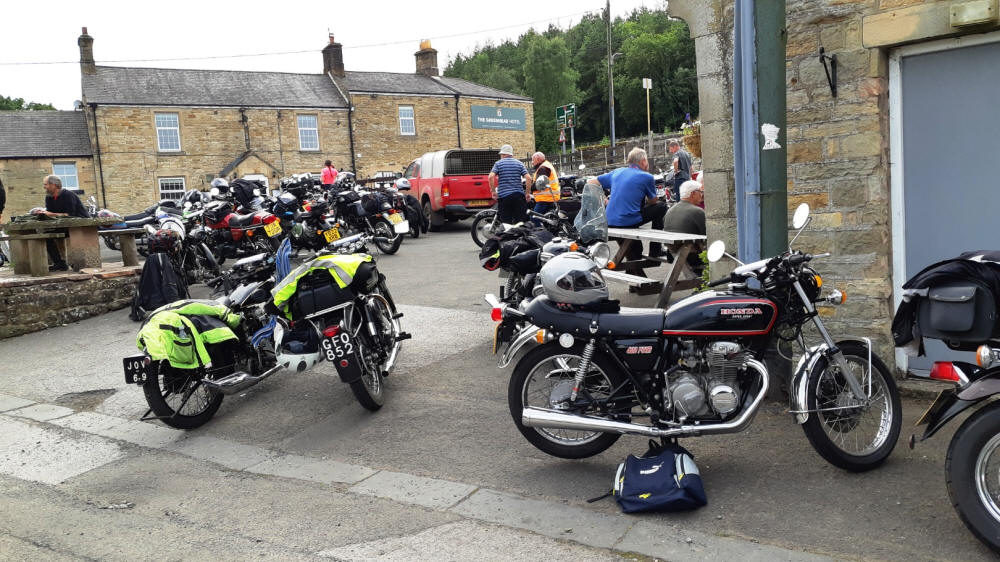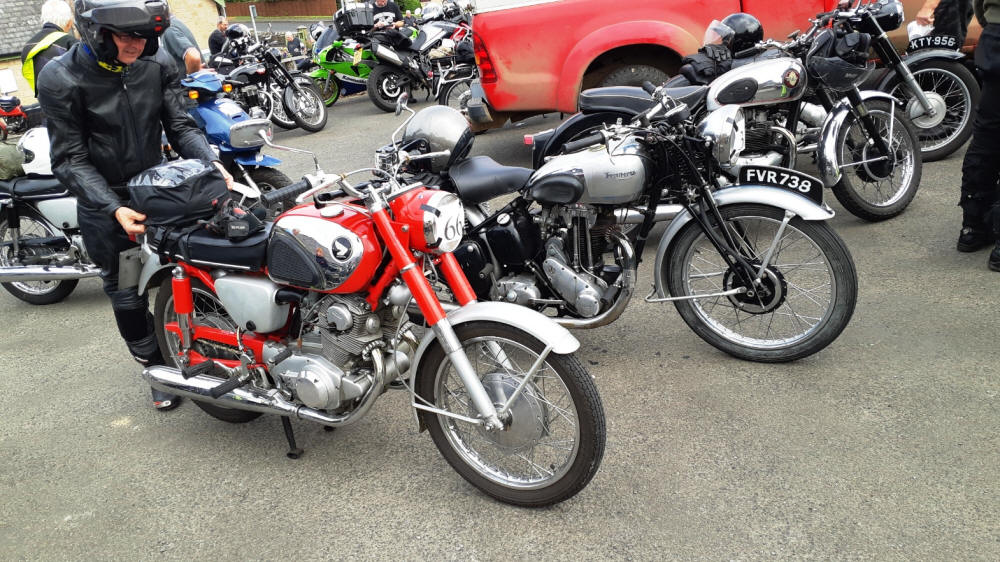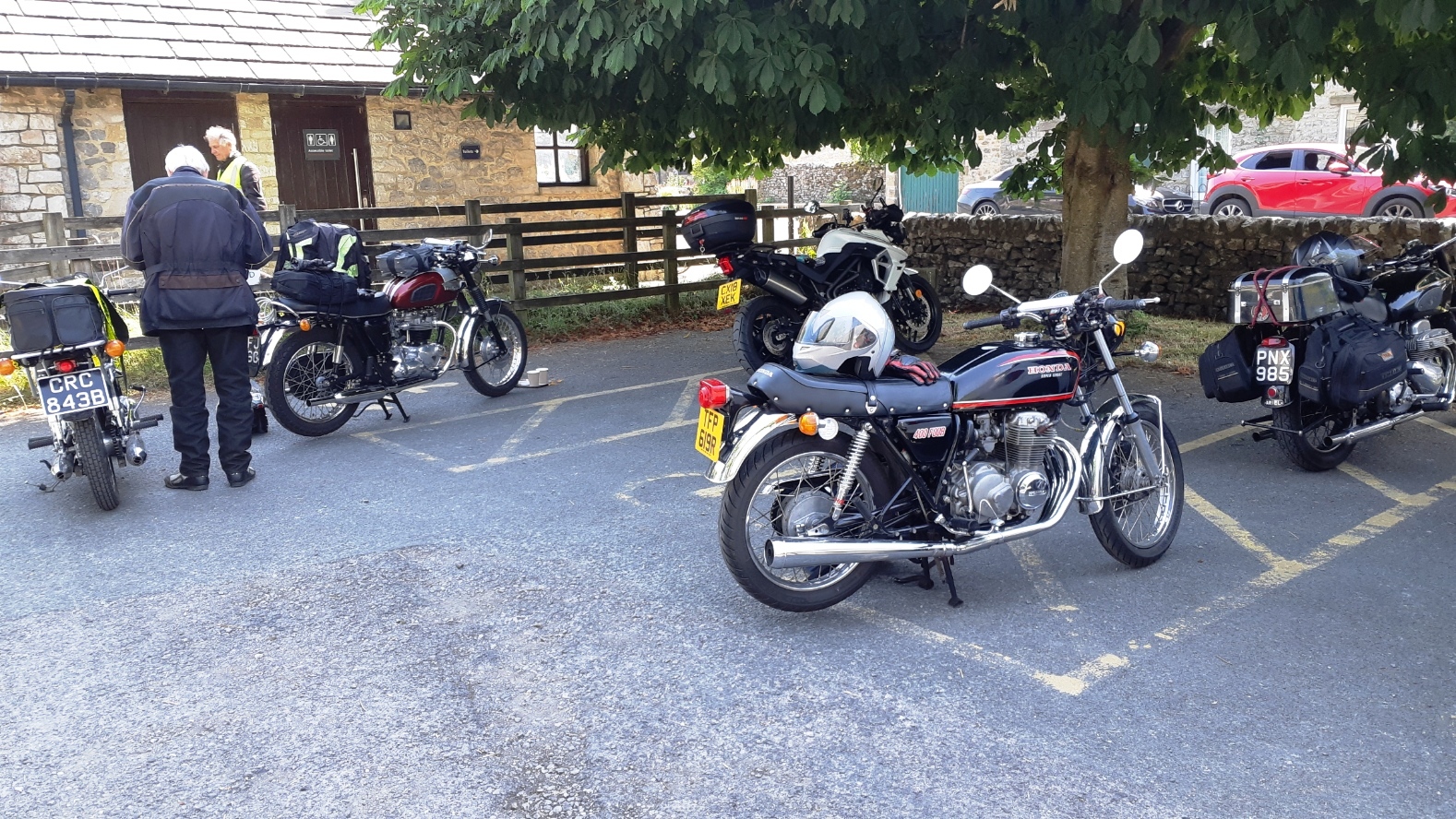 ---
Home | About | Calendar | Contacts| Event Reports | News | Section Notes | Specials-Projects-Mods | Help | About
Copyright © 2022. E. Grew. All Rights Reserved.