The 38th Burton Parade - Sunday 8th May 2022
David Giles sent this report:
A beautiful Spring day greeted us for the Burton Section's Premier Event after a 2 year layoff.
Impeccably organised, as ever, by Ann Davy and her team, 'signing in' gave us our starting number; based on the age of our machine, a package containing our coffee stop and buffet tickets and a route cards for either a Short (45) or Long route (70). That meant I was number 36 on a 1957 machine, which was near mid-field between Mike Wills 1923 Bradbury, last seen ably coping with a Green Lane in the Cotswold Felix Burke event; and Burton stalwart Pat Davy on a 1988, 223cc Honda who was last man away after doing his as ever informative loudspeaker commentary on the field, prior to our being flagged away by Pam Goodfellow an Allen House stalwart for many years. I had chosen the short route.

Stopping at the road repair Traffic Lights one mile up the Shobnell Road put paid to any temptation to follow the man in front and I was out on my own all the way through Tutbury, Fauld, Marchington, and Kingston to the coffee stop, at the Blythe Inn 19 miles out. Well that's not quite true: travelling at a steady 35 – 40 mph I had passed with a cheery wave first Dave Prescott on his 123 cc Bantam and then Matt Dillon on his Cyclemaster (powered today by the original 32cc motor in the back wheel – supplemented by a battery powered unit in the front). Apart from them and the very pretty Triton that shot passed me, and the unidentified rider in my rear view mirror, I saw no one.

The Blythe inn was vibrant with a weekend steam rally in the adjacent field but the otherwise full car park had an excellent 'up-front' designated area just for us. I parked and the 'unidentified' rider pulled up alongside, it was Hon Sec Vic on his Tiger 100 who explained he had been following me as his route roller was stuck.

The next extended half-hour was delightful: sitting in the warm sun with a coffee and catching up on familiar, but not recently seen, Parade stalwarts from other Sections: Ed Morley from Stroud, Dave Richmond from London, Paul Button from South Cotswold who frequently ride as a team under the banner of the London Douglas Club, Brian Thomas from Birmingham, who rode from home on a 200cc Honda instead of his better known 250cc BMW – 'It's anno domini, and trouble with kick starting he confided to me. We are born within 2 days of one another in 1937. (We found this out when vying for the oldest competitor in a Birmingham Section event a bit back).

Well better get on with it I thought: Walter is just leaving I'll follow him out, but at the first junction he turns right when my route card says left. It's always tempting to follow a 'local', but experience tells me that once you stop believing in the route card all will eventually be lost - when he turns out to be going somewhere else. So, I turn left and who do I catch up with after a mile or so but Cath, Walter's wife, who is navigating for Shelley in the Robotham Morgan? I'm grateful when they wave me by as the central rear tyre is kicking up a cloud of dust. It is delightful country lane going which means one has to be wary of dried mud on the road, a case in point being one tightish bend which had water and mud across at least three-quarters of the road. It's all unknown territory to me but very attractive and I am delighting in the route. A yellow jacket appears ahead and I steadily catch up on John Goodall on his 350 cammy Velocette, I must say my 250 C12 must be doing well if we can catch John. Then we come to a road junction where the route card says turn Right and John turns Left.

Here we go again I think, turning Right. All is revealed when we get back to base. Walter had been using and earlier set of the instructions: there had been no fewer than three last minute iterations due to road works*, and John Goodall had diverted home to get a replacement wing mirror, Meanwhile my faith in the route card appeared to be justified as junctions, signpost mileages and helpful road names appeared as expected. (Bless you Brian Slack the best route planner in the country, say I). But fellow competitors are not so predictable as I am confronted by Vic and Tiger 100, in mid Yoxall, going the other way! He later declared he was on the 'long route', but I'm not so sure and neither was Paul Button - the most capable of navigators - who arrived back at base later than most to plaintively ask, "Did anybody else do the long route"? Smiles all around. The buffet lunch was excellent, the company convivial, the prize winners justly applauded. And so finished another successful Burton Section Burton Parade.

Dave Giles.
09/05/22.

* Over our buffet lunch Eddy Grew shared with me for future reference a website with a map for information about road closures and delays. https://one.network/ Type in your area name in the search box, click on the red dots/icons etc to get more information.

---
Some photographs from John Earp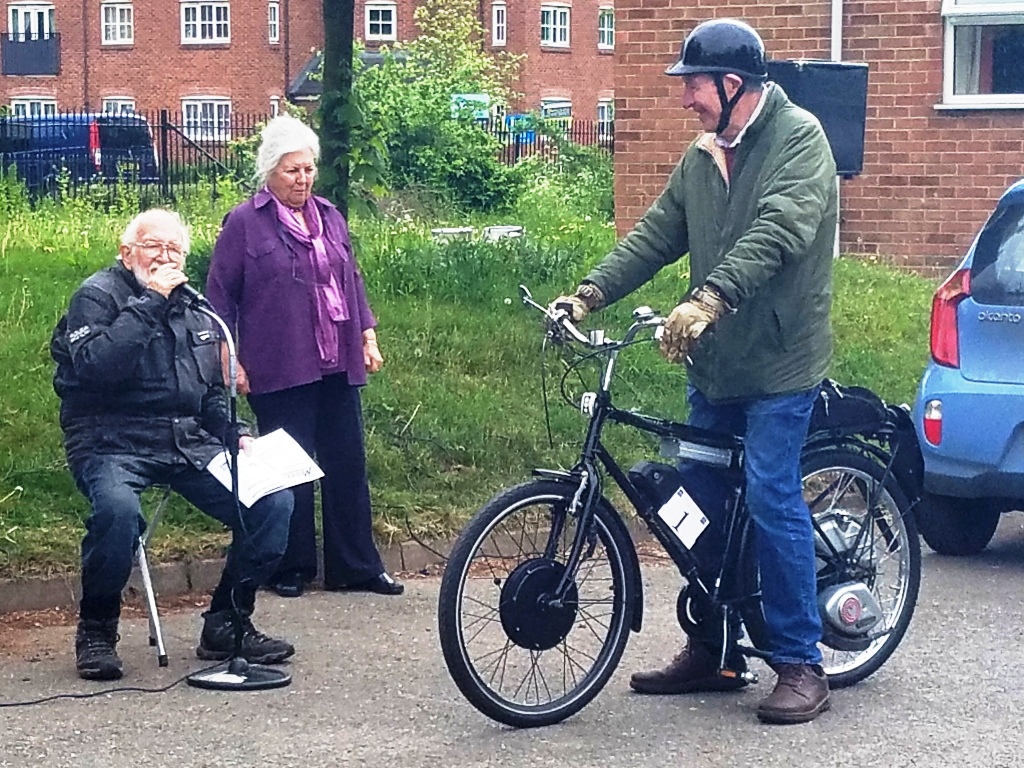 First man away. Mat Dillon on his Cycle Master.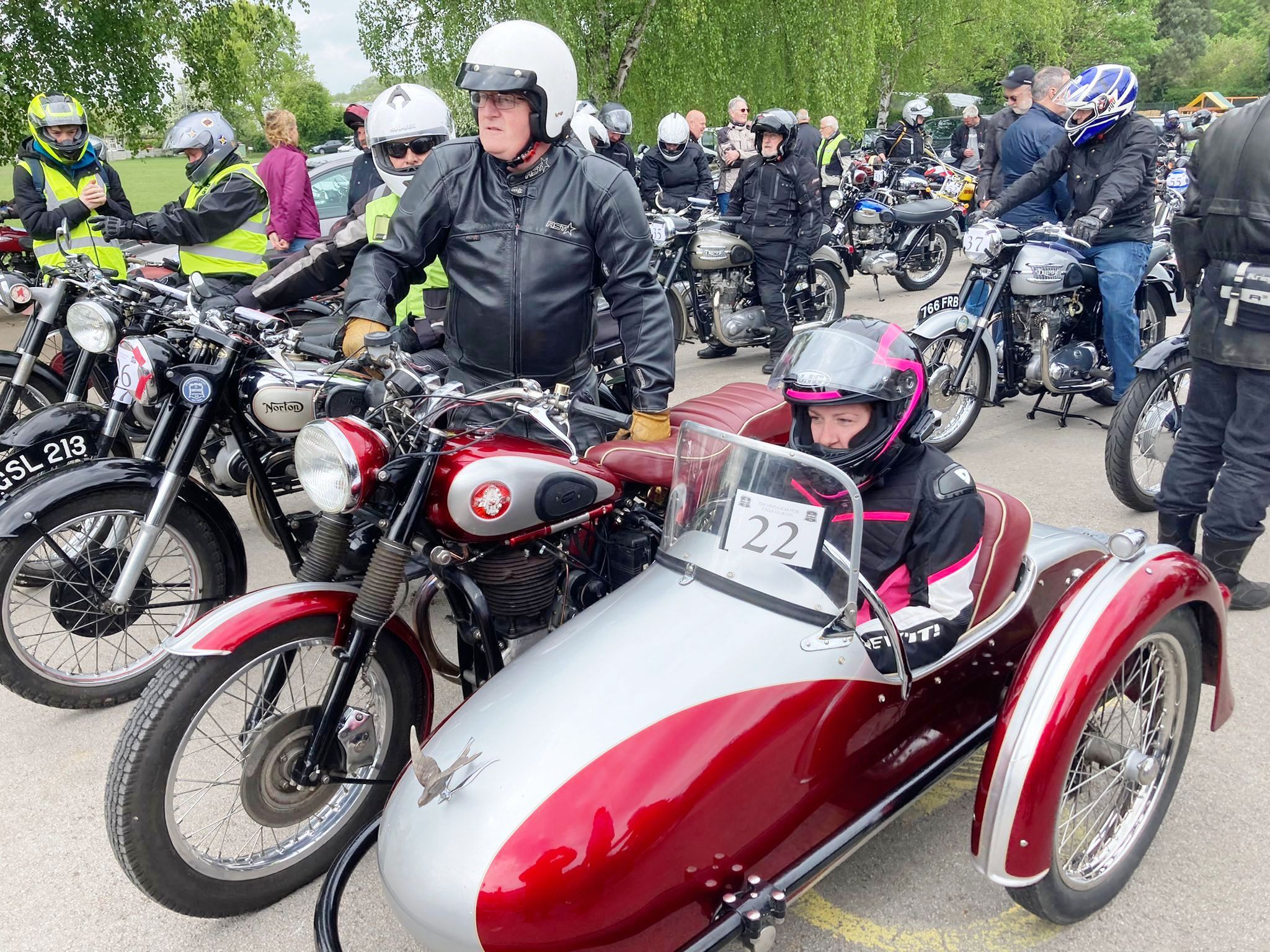 Ian Baxter with his passenger enjoying the comfort of the Swallow sidercar.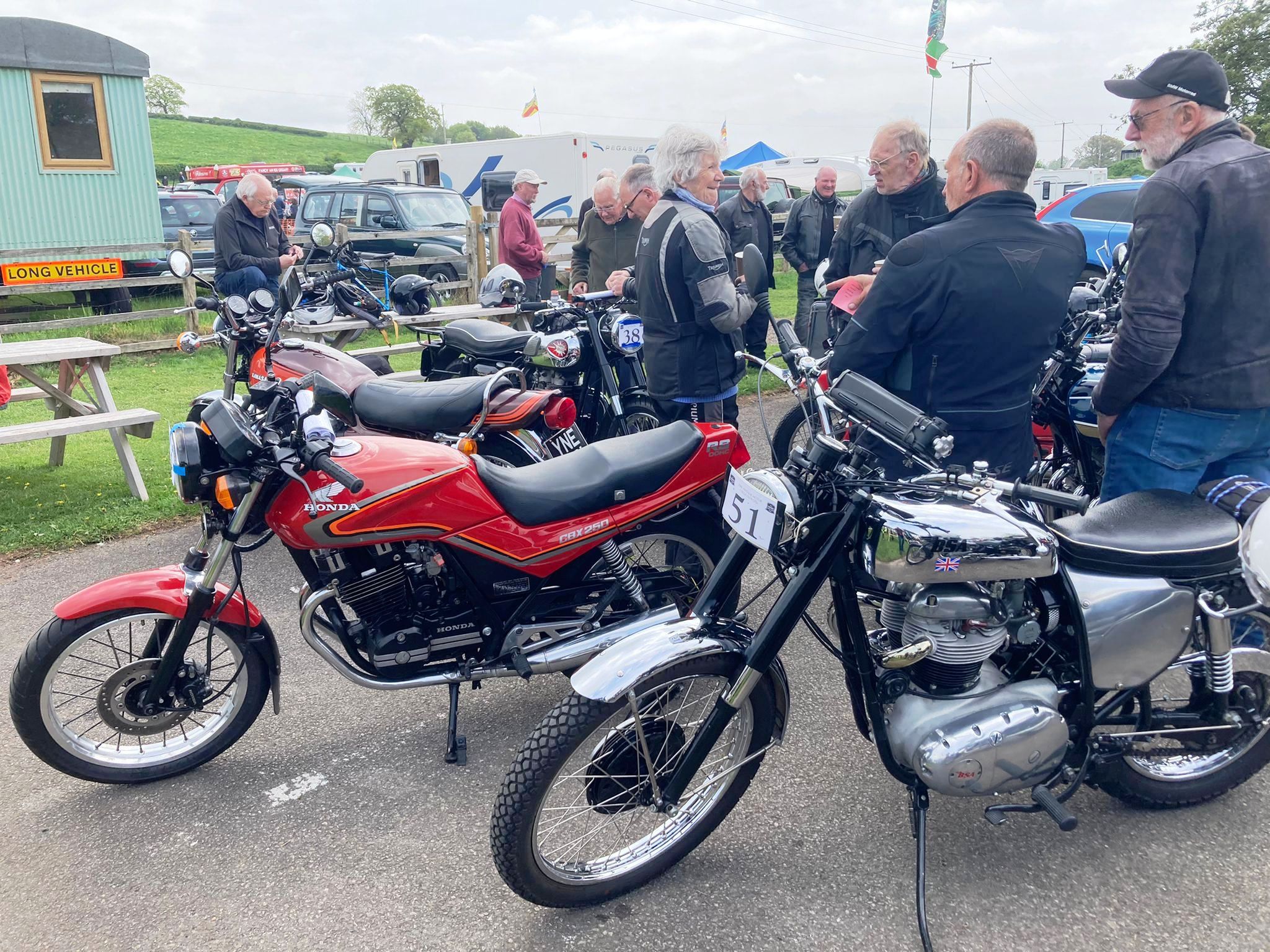 The car park at The Blythe coffe stop 1.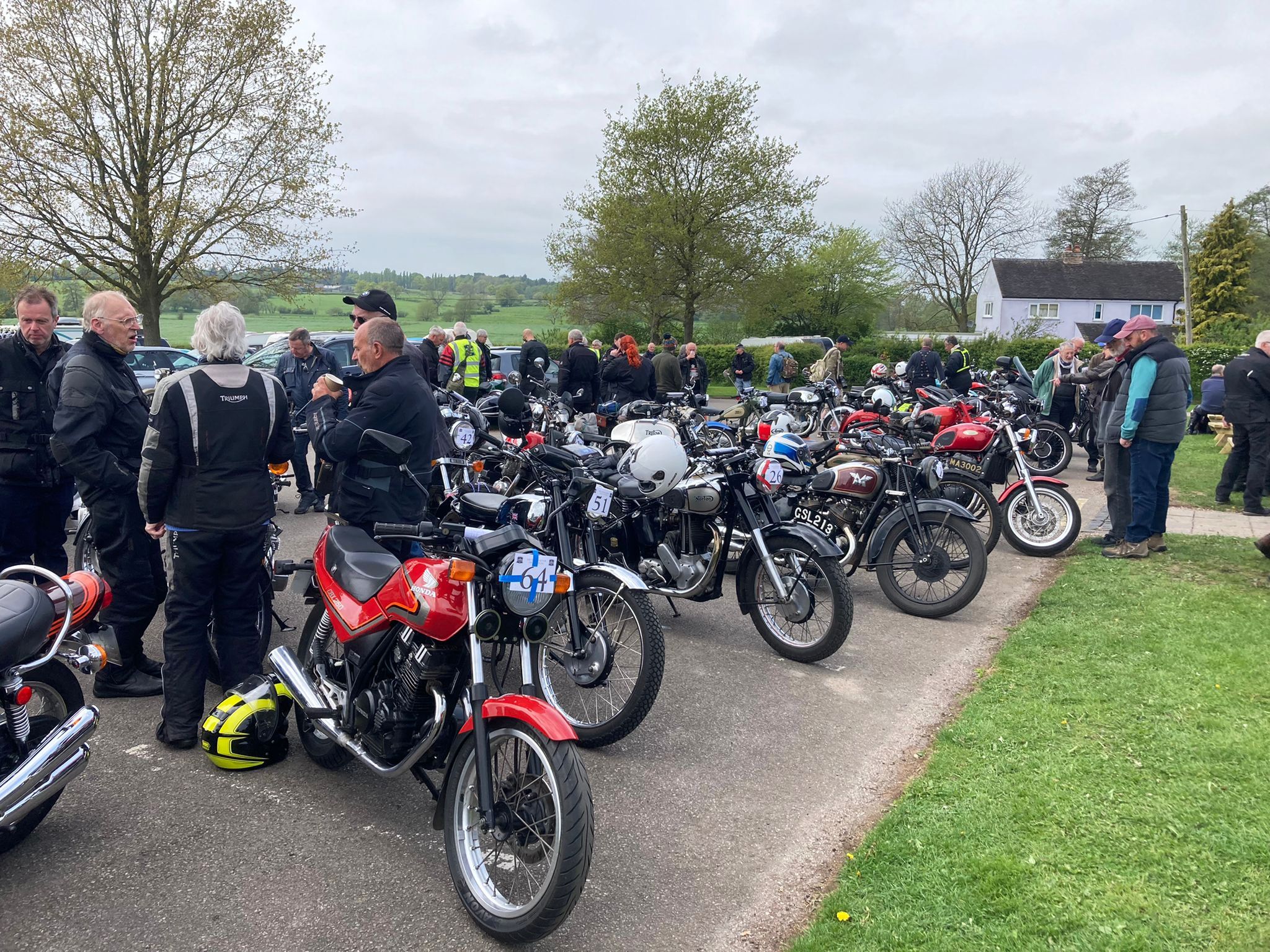 The car park at The Blythe coffe stop 2.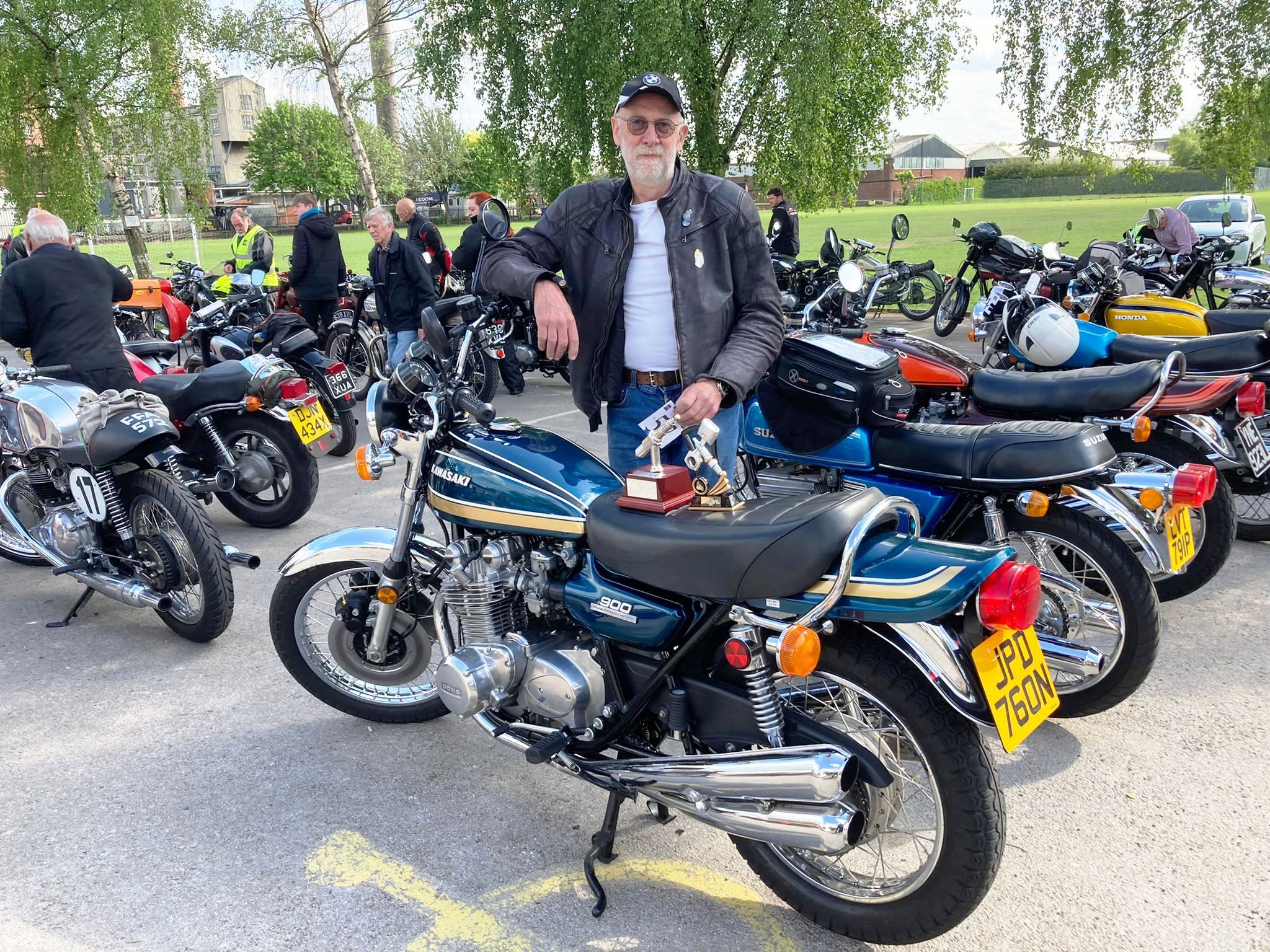 Mick Waterfield with his award winning Kawasaki 900.
---

Call back later. There may be more photographs from Brian Slack when he can sort them out.🤞

---