Frost bite Run 2017
The run on November 5th was organised by John Renwick and started from the services at Appleby Magna. The run thankfully didn't quite live up to the "frost" part of the title but early temperatures of 5ºC - 6ºC made it quite fresh with still damp roads from an early shower.
Riders on their way to the start along the A444 from Burton direction had the added hazard of a diesel oil spill from Gresley roundabout to Appleby. Along the way they passed the burnt out shell of a police car in Overseal! Reports suggest that it was set on fire deliberately!! Perhaps it was started by the ghosts of the Guy Fawkes gang still rebelling against authority.����
The eight bikes and riders (+ one brave lady pillion) rode South a little way down the A444 before turning off onto minor roads. We passed through small villages still slumbering on a Sunday morning though probably stirring now roused by the rumble of the bikes passing through. Some of the roads were much more minor than others and some were a little slippery in places with mud transferred from the fields by tractors. One muddy patch caused a bit of slip/wobble accompanied by a few exclamation mark comments from the pillion seat!!!
The first part of the run wound us into the Charnwood Forest with most trees displaying their autumn colours well in the bright sunshine. We passed by the Monastery at Mount St Bernard Abbey and the nearby St Joseph's Tea Room. The tea room was a possible stop for a break but as it cold we pressed on to our lunch stop at the Breedon Priory Garden Centre where there was a good selection of meals and snacks. After some refreshments John led the party West back towards Burton via Repton and Gloria and myself headed South back to Hinckley.
Nobody got frostbite, lost or broke down and we all had a good ride. Many thanks to John for organising this the last run of the year on our section calendar. Eddy.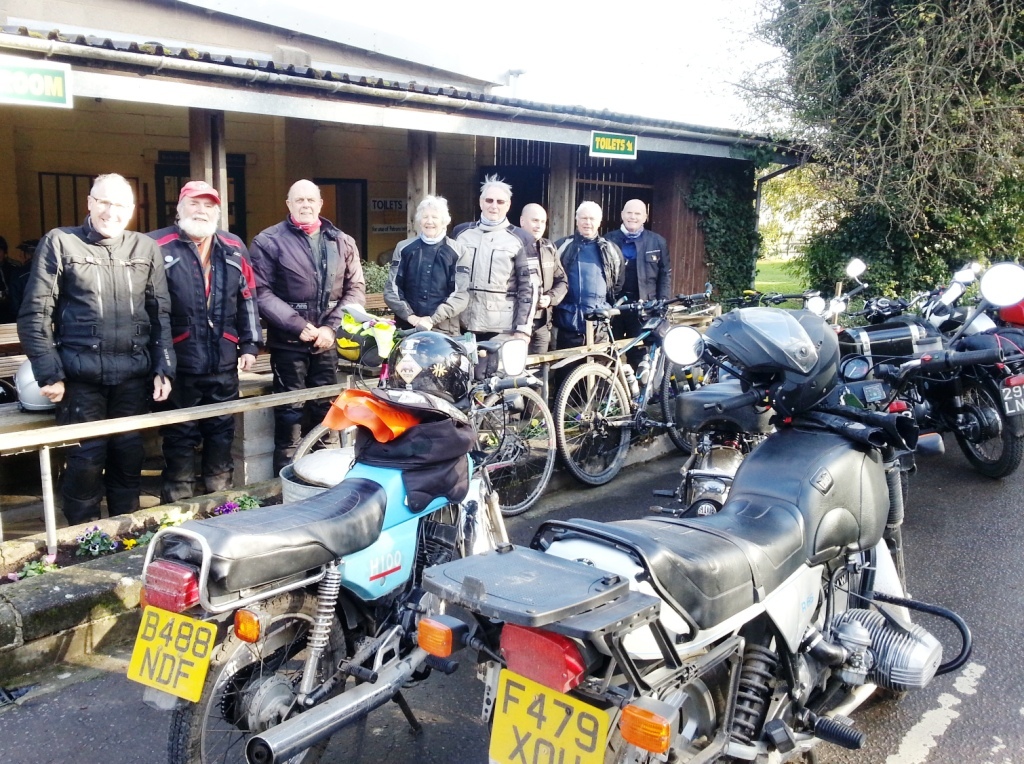 The line up outside the Breedon Priory Garden Centre before going in for drinks food and a warm.