Frostbite Run 2019
---
A report from John Renwick with a few additions from myself and a couple of photographs. Eddy
---
I had planned to lead the run into the picturesque Peak District, starting at Tutbury car park to gain an advantage to get the group of riders of classic and vintage machines up into the Peak as soon as possible. The national forecast was poor with heavy rain and high winds, particularly in the Southern Regions but there appeared a gap of clear(ish) skies north of Birmingham. The day dawned, cloudy but dry encouraging some optimism, but unfortunately this was short lived. Following breakfast, getting togged up then wheeling out the Matchless G11 small drops of rain landed on the headlight shell. A very short ride to Tutbury car park and the rain soon got progressively heavier and it looked "in for the day".

First to join me was Vic on his A7, then Mick Waterfield on his Honda 750/4, Eddy Grew on his Vincent Rapide followed by Mick Leach on his 250 AJS Lightweight. At 10am we set off, unfortunately Mick's AJS objected to the rain and at Fauld he, unfortunately, had to turn back for home. The remaining four of us rode on gallantly, in by now heavy rain, with water flowing down each road. We had to remain vigilant for gravel wash, mud from farm vehicles and large collections of wet leaves, plus other four wheeled vehicles approaching.

On the plus side and certainly on the lanes of the chosen route there were not many other vehicles, no pedestrians, no one jogging and no horse riders. Strangely enough there were not any other motorcyclists either, modern or classic. It must have been the televised Rugby World Cup keeping people indoors.
Pressing on we negotiated a single track gated road, a couple of hundred yards on the A515, more dry stone wall lined lanes, rode alongside a swollen river Dove before coming to the Manifold River and our planned tea stop at Hulme End. After a brief discussion, before helmets were removed, we unanimously decided to extend our stay at The Tea Rooms, have a bite to eat and then make our way back home.

After refreshments, a good chat and each leaving a substantial puddle of rainwater on the floor, we heaved on our wet and heavy riding gear, including coaxing fingers into soaked gloves, started our trusty bikes and headed for the A515. Once on the A515 we had fairly spirited ride, interrupted by a steady 30mph run through a very quiet Ashbourne, onto Sudbury, then each individual making their own way home.

Within a few minutes of me arriving home the rain stopped, the sun made a brief appearance, I am sure as a reminder, that whilst you can plan a seemingly good scenic route suitable for 25+ year old motorcycles you cannot organise the weather. Of course this was endorsed the following day as it remained dry if overcast with a light shower late afternoon.
Regardless of the weather each participant politely told me they enjoyed the ride. I appreciate their support by turning out despite the weather forecast and a Rugby game on the telly. John Renwick.
---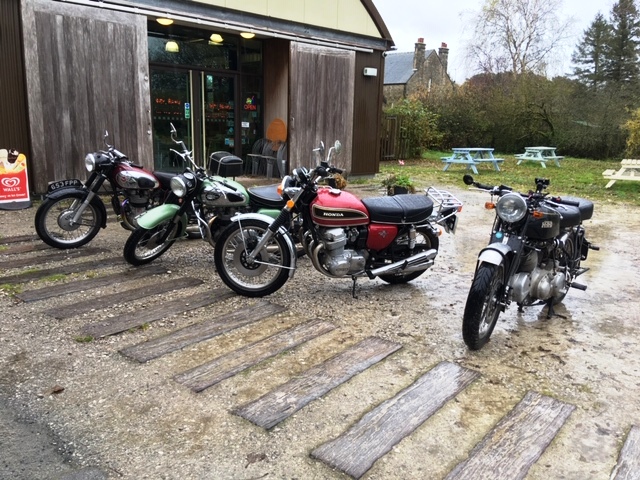 ---
If you want to read a little more here is some of an email that I sent to my brother John to tell him about the day:

The weather forecast for the day of the Frostbite Run was dire and unfortunately pretty accurate. Gloria said she didn't fancy it. (Clever girl.😊) Not many others fancied it either as there were only five of us at the start, Mick Leach, John Renwick, Vic Carrington - Porter, Mick Waterfield (Waterfield, a most appropriate name for this day of deluge) and myself. I don't think we'd done more than a mile or two before Mick Leach's bike drowned out and stopped. It eventually started again with a push. He decided not to risk going any further and headed back home. A good choice although the bike might not have made it all the way home under its own steam which would have meant some pushing.

We splashed onwards joining the A515 towards Ashbourne and soon turned off onto "B" roads up into Dovedale. At times we rode alongside the Dove which was in full flow, the roads were flowing quite well too in places!

The "coffee stop" was at Hulme End with another planned stop for lunch at The Bulls Head, Moneyash. At Hulme End cafe a we made the decision that we would call it a day and after having tea and something to eat we would make for home. (It actually wasn't a difficult decision.) John had a cake and three of us had tomato and chile soup which was quite warming. Vic and myself also managed to force down some very nice treacle tart.🍕👍

Our riding kit had drained somewhat and formed quite a decent size lake on the floor. We put on our wet kit and set off homeward. We hadn't been riding more than a few miles when the weather cleared up a bit and there was even the odd glimpse of a hazy sun behind the clouds. Who'd a thought it!

I was going back to Hinckley so when we reached the A50 I left the others having decided I would shoot down the A50 towards Derby, getting off at the A514 to take a more interesting route via Swarkstone Bridge, past The John Thompson pub to Ticknall, Smisby and then Ravenstone and A447 through Ibstock. It wasn't the shortest route but once I got off the A50 I quite enjoyed the ride cross country and ..... it wasn't raining.

It was probably not the best day I have had riding my Rapide but at least we didn't have to call out Air Sea Rescue or the Lifeboat. 😉 Eddy.
The Hulme End Tea Drinkers