Felix Burke Road Trial
Brendan Walsh has sent this report and photographs:
Sunday morning 08/04 saw two Burton Section members at Andoversford Village Hall for the running of the 2018 Felix Burke Road Trial. Myself a first time entrant but David Giles is an old hand.
It's a navigational event with the option of riding green lanes in lieu of answering the four questions at each of the twelve checkpoints.
The checkpoint map references are given in advance to give the rider the opportunity to decide on a route. A pity the questions weren't published in advance too!!
Just to complicate things, route mileage must not exceed sixty but the distances are fixed between checkpoints and known to the riders.
As I was using my C15T which cruises at 25mph I'd gone for a low forty miles, there was a time limit and I didn't think I could do sixty miles within it. Dave went for the full sixty successfully.
The weather stayed dry, just, but it was a cold and cloudy day. Despite all the rain the green lanes were OK. We were sharing them with 1,250 mountain bikers, the Hell of the North Cotswolds event based at Winchcombe. I was passing then on the climbs and visa versa on the downhill. All good natured, I suspect there's quite a few off road motorcyclists among them.
David was on his C11 and also tackled some of the green lanes.
There was a marvelous buffet at the finish including soup and various warm desserts and as a bonus a nice enamel badge as a memento.
Thanks to the Cotswold Section for organizing. (David has added some notes and two more photographs lower down the page. Ed.)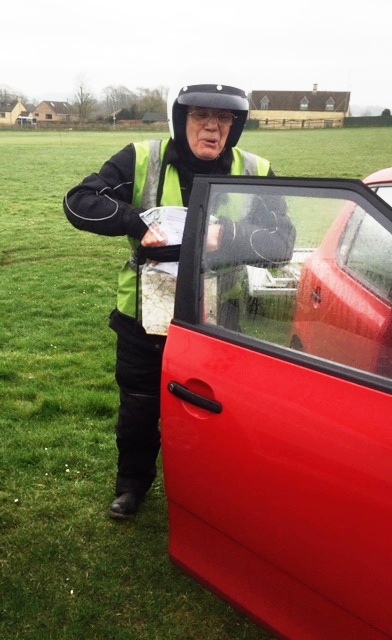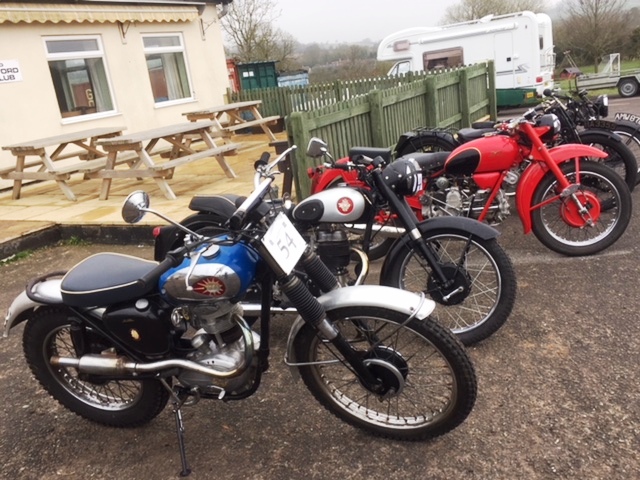 David puts his maps away and the C15 and C12 BSA's wait in line.
David adds a few notes:
Before and after shots of entrant No 49. Dave Giles: BSA 250cc C12. Twelve controls visited, completing the required matrix distance of 60 miles. (180 bonus points) via 6 elected green lanes,(3 x 6 points =18 points) 5x3 =15 Questions answered. (about half correct at a guess). Actual mileage 73 miles. Duration: 4½ hours of continuous running time over wet and muddy roads. Surprisingly exhilarating! Dave.
Below: The C12 before and after the trial.