ACU National Road Rally 2017
Mick Leach reports that John Genders riding a BMW, Clive Martin on a Triumph America and himself on a Motorola Morini left Burton checkpoint and visited 10 other checkpoints through Derbyshire, Nottinghamshire, Lincolnshire and Leicestershire before arriving back at Burton to finish. We received a warm welcome everywhere people wanted to chat make us tea, but due to time constraints we only lingered at a couple of checkpoints the Horncastle one at West Ashby where we stayed a while for tea and biscuits and incidentally gave each of us a keepsake, show in the picture below. We had another rest at the Grantham checkpoint before completing the last three legs home I think all three of us had a memorable day and are looking forward to the next one.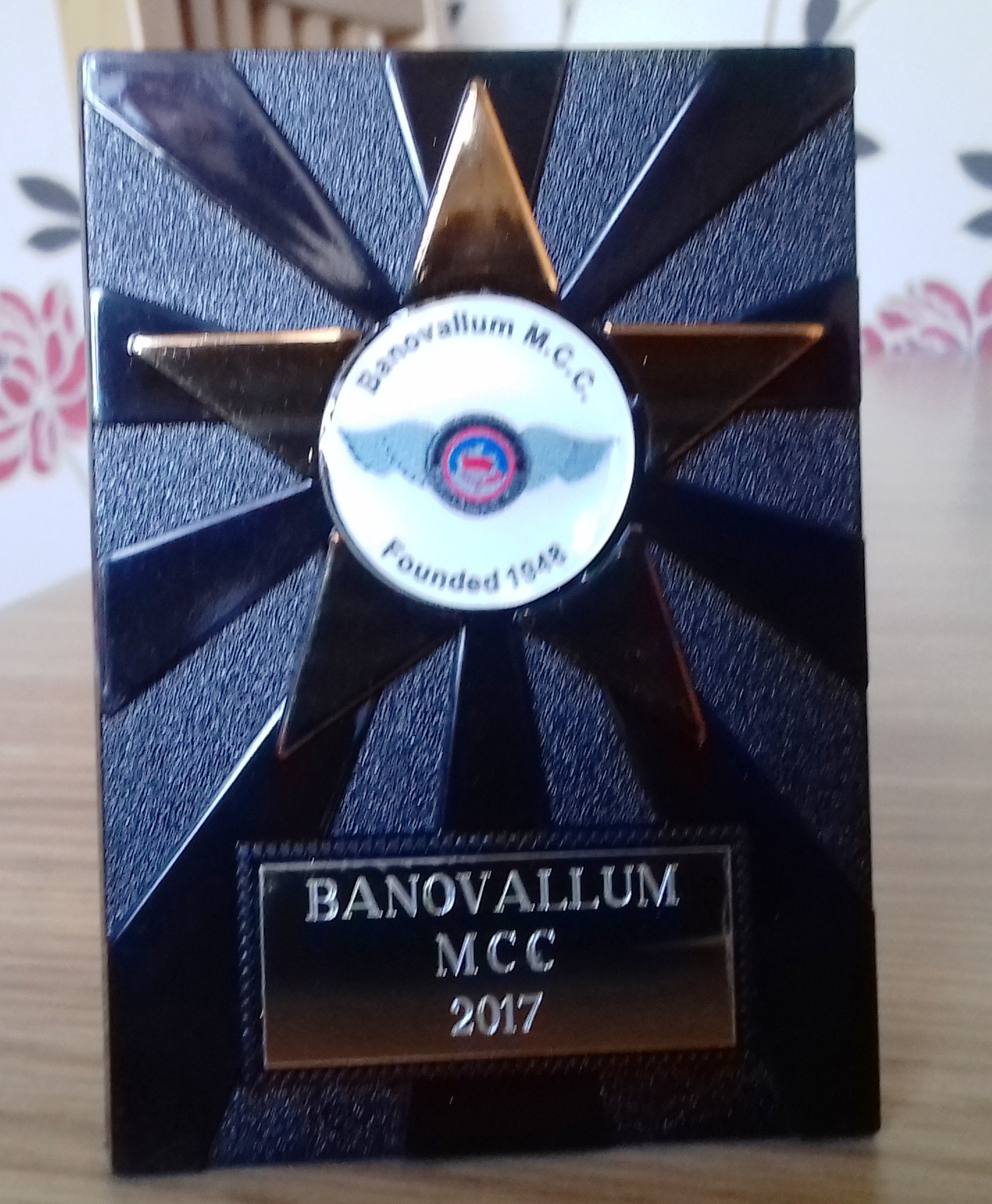 Memento given to Mick and his friends at one of the checkpoints.
---
Eddy Grew reports that he and brother John also rode in the ACU National Rally on July 1st. John was on his Harris Matchless and I rode my '1948 Vincent Rapide. We entered the Daytime Gold category. This meant covering 280 miles while visiting 12 controls in the 10 hours allowed for a Gold award. During the 10 hours you are required to take short breaks of at least 15 minutes and totaling at least 45 minutes.
Our plan was to start from the services at Kegworth and visit controls at Syston, Grantham, Langrick, Wisbech, Stibbington, Kettering, Dunchurch, Gaydon, Meriden, Burton on Trent and finally back to our finish at Kegworth.
We set off at 12.00 for our first checkpoint at Syston and almost immediately found a problem. One of the roads on our planned route was closed! We had to do a quick rethink to to find an alternative route to Syston. Our route seemed to be working quite well after that first hiccough. After three or four checkpoints we decided to take a break at a checkpoint and have tea and a sandwich. Inevitably we got talking bikes to the people at the checkpoint and our 15 minutes break stretched to 30 minutes and more. John said we had better get a move on. (Cheek! It was him that was doing most of the talking to a guy about Moto Guzzi 's.). We cracked on, spent minimum time getting our cards stamped at controls and started to catch up time.
We had a bit of a panic at Gaydon. The control was at a gate house leading onto the huge industrial complex. We turned off the main road at a roundabout into the complex but couldn't find the control! Back at the main road we rode to the next roundabout where with great relief we found the correct road, a gatehouse and someone to stamp our control card.
We had another break at Meriden where the club manning the control supplied free tea and biscuits and then off we went again.
At Burton, our last but one checkpoint, we met Mick Leach and his team who were just finishing having started at Burton.
After signing off back at Kegworth we celebrated with more tea. We were lucky to enjoy good weather throughout.
The last time that John and I entered the ACU National Rally was over 40 years ago when you had to do 600 miles over 24 hours. We remembered that one year back then it seemed to rain for virtually the whole of the 24 hours!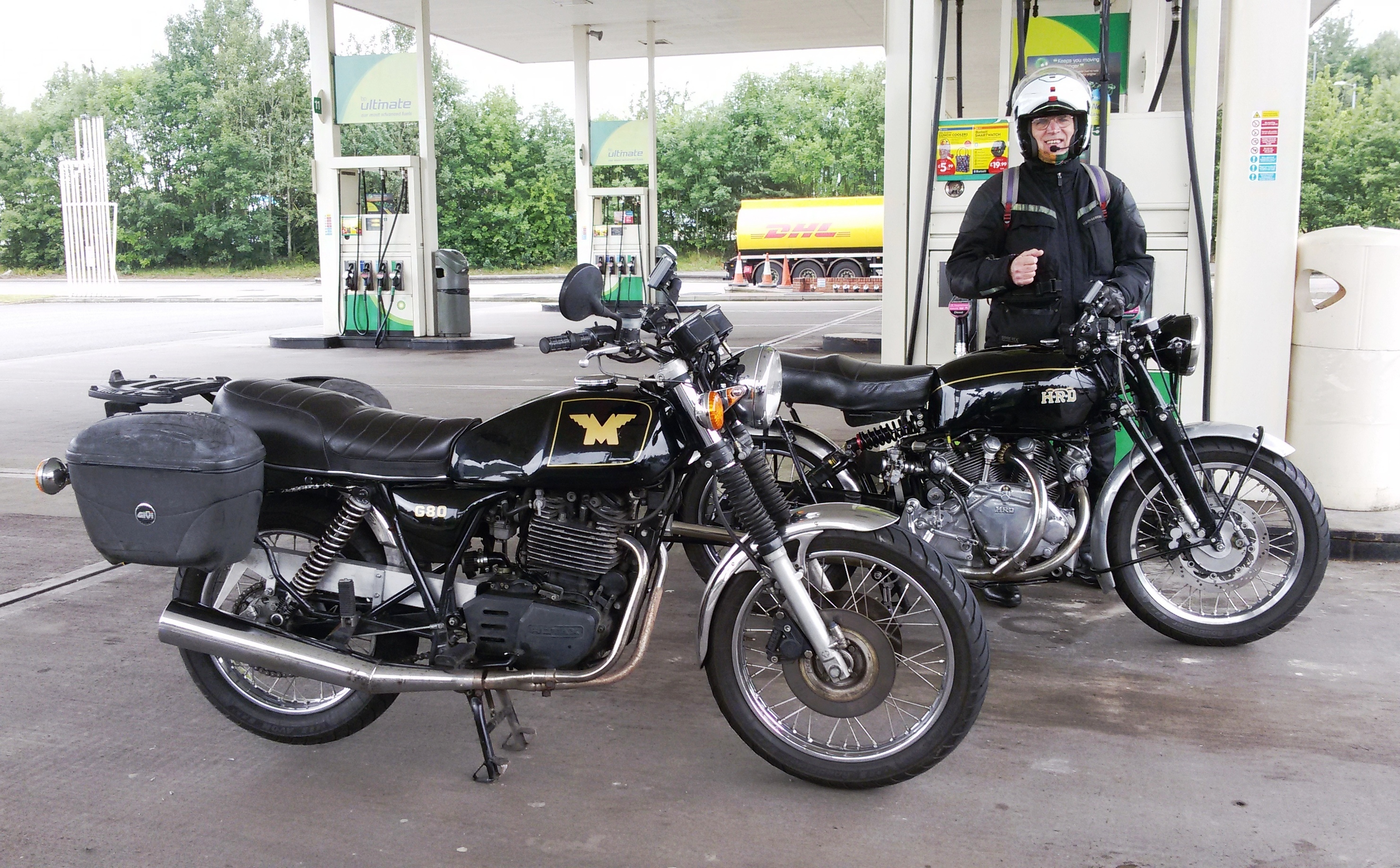 Filling the petrol tanks before the start.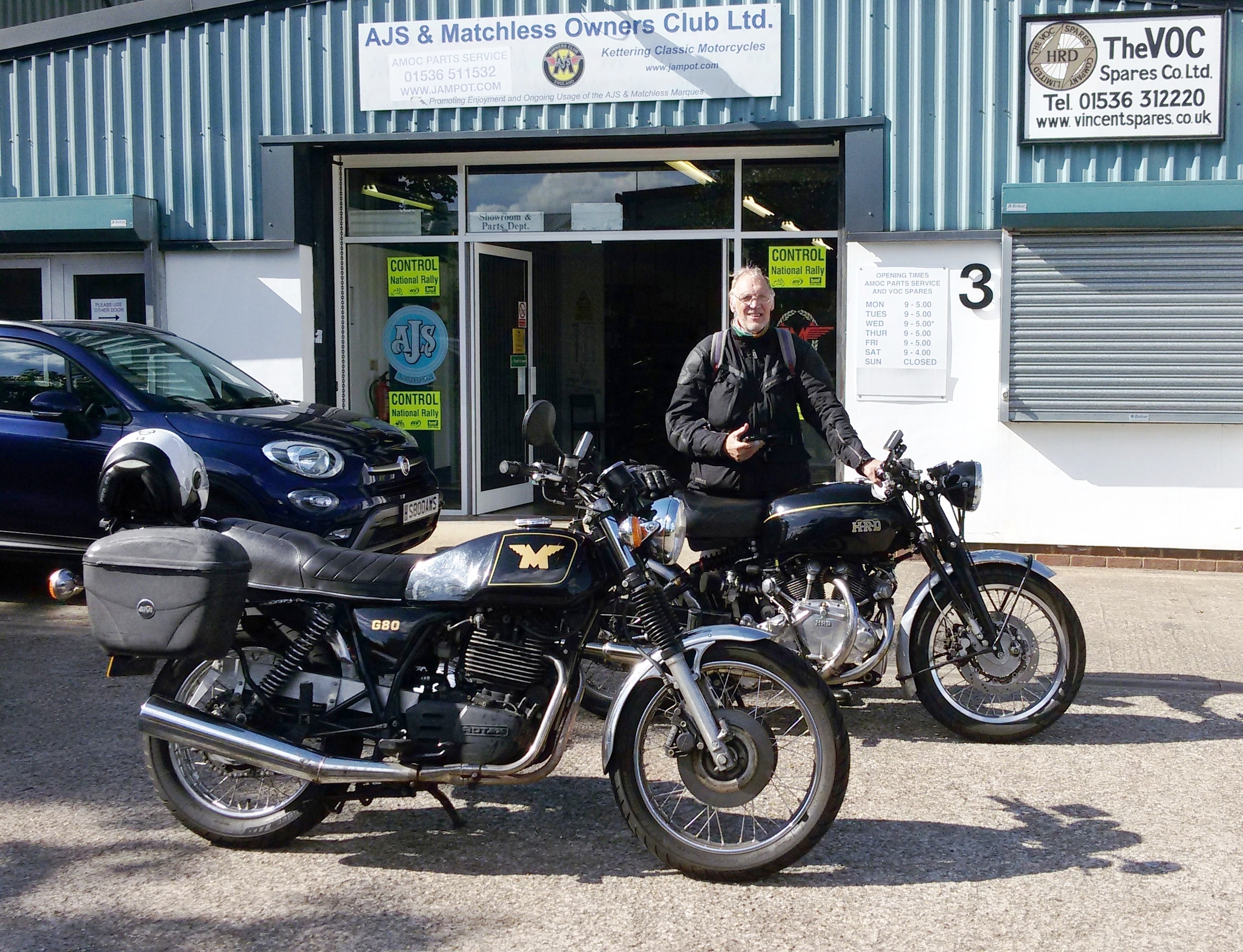 Outside the Kettering checkpoint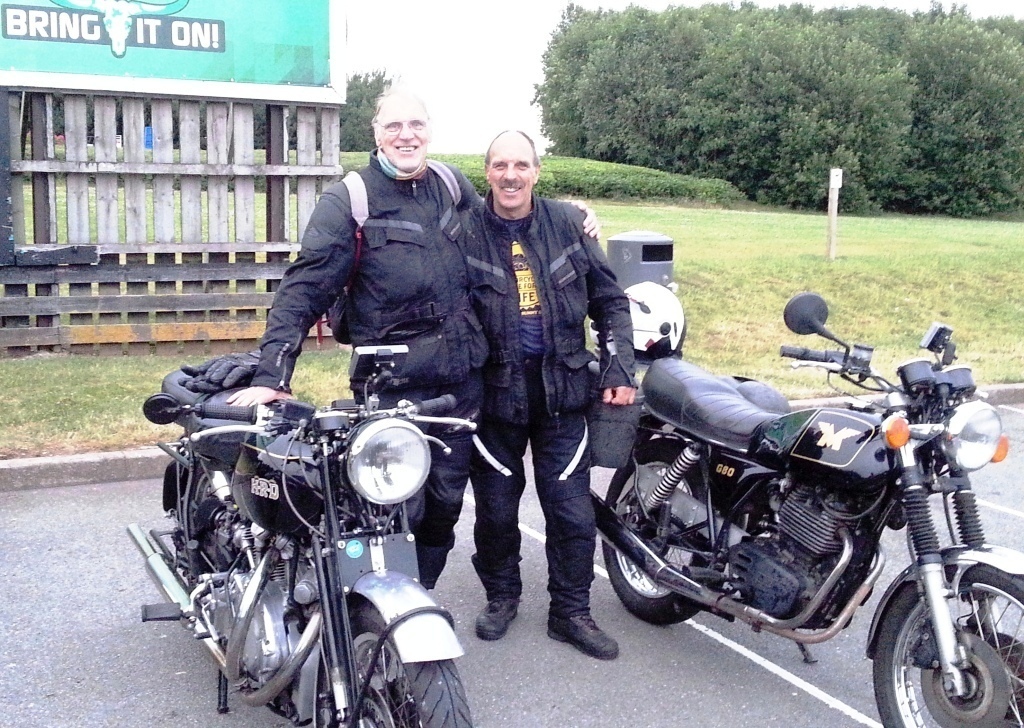 The finish back at Kegworth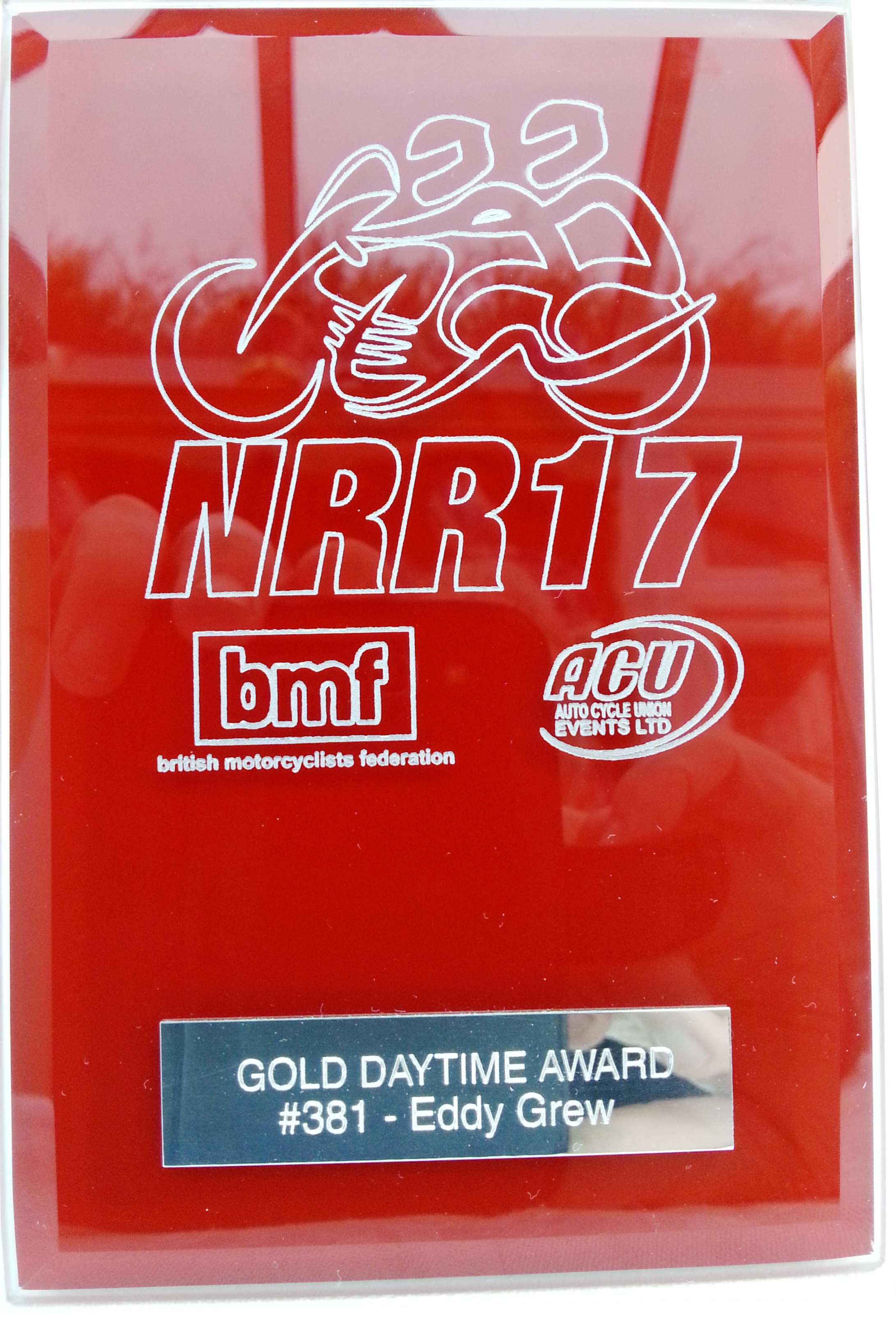 The gold award. It is not about getting the bit of plastic. It is all about the ride.