Rudge Club Camping week in Skibereen, Ireland

John Goodall has sent this report:

A few months back Phil Haywood of Vintage Bearings mentioned The Rudge Club Camping week in Skibereen to which all are welcome and having entered the Irish National Rally many times I asked my usual travel companions Pat and Shelley Robotham if they fancied a trip, my wife permitting? Carol kindly agreed and arrangements were made with me booking the ferry for my van and Shelly the self catering two bedroom house overlooking Talispeen beach not far from the Rudge camping ground in Skibereen.

We arrived at Pembroke with time to spare on Friday the 21st June for the afternoon sailing at 14.45pm on a nice sunny and calm day after about 220 miles in the Renault Traffic van with two bikes my Honda 400/4 and Pat's Ariel 500 single. The crossing on a flat calm sea was the best I has experienced. We stayed the first night in Rosslare close to the port and with two pubs and an Italian restaurant close by, we chose the Italian and had an excellent meal and then to bed.

On the Saturday we drove the 200 miles to Skibereen and easily found the Rudge Camping Ground and made contact, then drove on to find our accommodation, which took a few wrong slots before we found it. It was about five miles from the camp site with the last few miles up a single track and very rough in places road. Not good for any of our transport?? Idyllic on a nice day, but not somewhere to live unless you wanted isolation and owned a half track. We had a meal at the only PH in Tregumna about a mile away as the crow flies, but three miles of more really rough track, so the van came in useful again.

Sunday dawned very wet and windy and we drove down to the camp site in the van to see what might be happening and the general consensus was not to ride, as it was set to rain continuously hard all day. We played cards and dominos and did crosswords for most of the spare time. That afternoon we were invited to join the Rudge Club for a Sunday Buffet Lunch at the West Cork Hotel in Skibereen, which went down very well.

Monday found us riding the bikes at last down to the Camp Site for a start about 10.00am! We set off at 11ish, this is Ireland don't forget heading for Bantry and on to Glengarriff and took the coast road to Adrigole and turned right for the superb Healy Pass. I had followed Pat and Shelley so far, but let it rip up here. Still not as quick as the MK1 KTT which I trusted more, although it could be 80 years of age now?? At the top I met an Irish Rudge owner Patrick from Cork and we three rode together for the rest of the day, not seeing any other Rudge people until we got back to the Camp Site. Ken Ashton had suffered a puncture and one Rudge an Oil Pump Failure. We had a BBQ that evening and were joined by a Robin who enjoyed our company that much, we saw him every day until we left.

Tuesday a run to the Head of Kinsale and a visit to the Lusitania Museum which was sunk by a German U-Boat early in WW1 was planned. We then rode to see a Whale skeleton on the return leg and here Pat had his clutch fail, even though it felt OK on the lever? So his bike returned on the Breakdown trailer. Another visit to a Henry Ford replica car and eulogy followed, which I thought could be better spent going back for the van to pick up the Ariel from the camp site. I asked new friend Patrick the quickest way back and he sent me exactly the wrong way, I got to Bandon 10 miles further on, before realising this error and then rode back like stink to just catch the last riders getting into the Camp Site from the run as I passed. When I got back for Pat and his bike the clutch was off and found to be terminal out here with six main studs sheared off. Ken Ashton offered his spare bike a Honda Vee Twin "Harley lookalike" for the rest of the Rally, such is the camaraderie of motorcycling. Patrick apologised for his error, but I enjoyed the hard ride so was not bothered.

Wednesday saw us riding to Sheep's Head peninsular just south of Bantry for more beautiful scenery with Pat coping with the unusual feet forward riding position of the Honda quite well, over the Goats path past a Pub where Dave McMahon used to play (well try) his squeeze box and get free drinks from the locals on the real Irish Rally. Dave was meant to be here, but was ill apparently according to Mike Wild who had arrived just the day previously. There were about twelve Rudges in attendance, one Ulster was fitted with a Dynastart??

Thursday we went inland to Gougane Barra where Patron Saint of Cork Finnbarr set up his retreat and monastery now in ruins. The sparse accommodation for the monks was still evident in the ruins and alongside is a small church set in a headland between two parts of the lake which is fed by the river Lee, a beautiful setting. Finnbarr is said to have paddled his coracle down the river into Cork where he set up another retreat and later became a saint. After some lunch we rode on to Inchegeelagh, where another Irish Rally stalwart Pat Creden is a local Chef and sung his heart out standing in the middle of the street with a few of the Irish lads, only in Ireland?? We later had problems when about half of the twenty odd riders got lost, due the system used. No route sheets, just follow the bloke in front, although you are responsible for the rider behind?? A few riders overtook stragglers and who is then responsible this is not a good idea? That evening we were invited to join the main contingent at the West Cork Hotel again, for the Rally Meal. The hospitality of the Rudge Club and locals was most welcoming.

Friday saw a long run up to Kenmare with rain looking likely and we were aching somewhat from the mileage done so far and decided to have a rest day and take the van out to Baltimore which neither of us had visited before, a pretty little port and we managed to buy an English paper there and have a coffee. We later eat in the PH at Tregumna again. The fish out here is lovely and fresh and recommended.

The last Saturday saw us loading up the bikes and setting off to Rosslare for the ferry trip home. I have to say the main roads are now vastly improved over the last time we three visited only about ten years back. We docked in Pembroke at the unearthly time of 00.45 am on Sunday morning after another very smooth crossing but with little sleep. Arriving back in Barton Under Needwood at 06.00am exhausted but after an enjoyable trip on mostly well surfaced roads with little other traffic when off the main routes. This is what makes riding older motorcycles out there so enjoyable and probably the best in the British Isles.

Special thanks go to Phil Haywood and the Rudge Club and to my companions Pat and Shelley Robotham. John Goodall.
---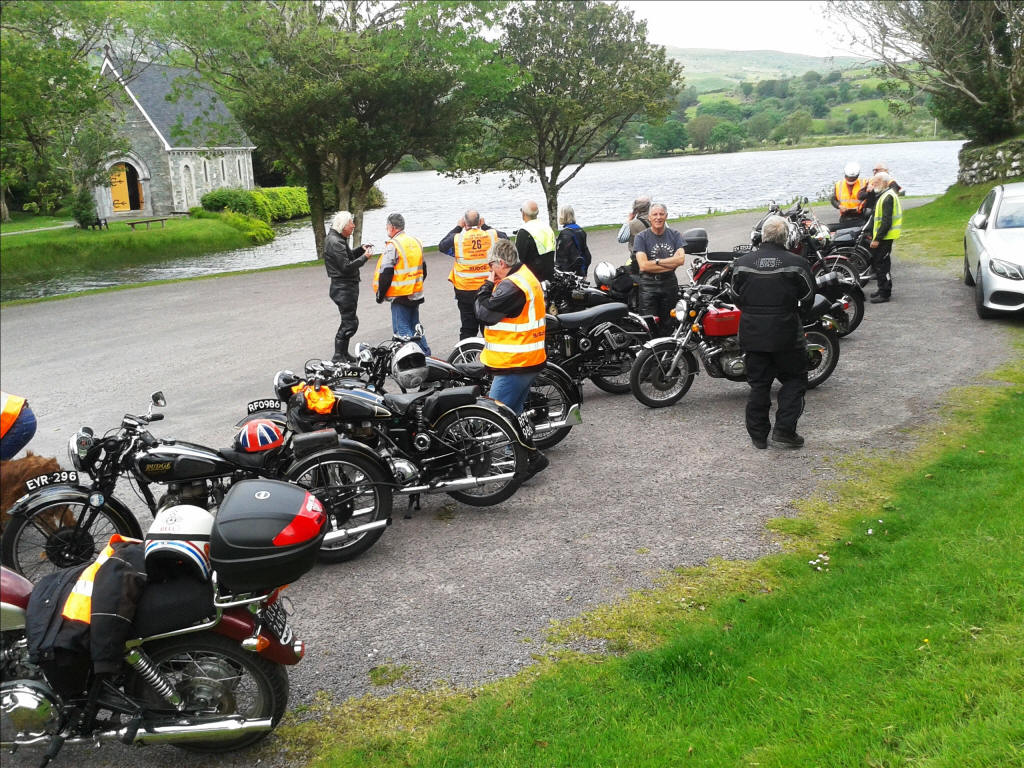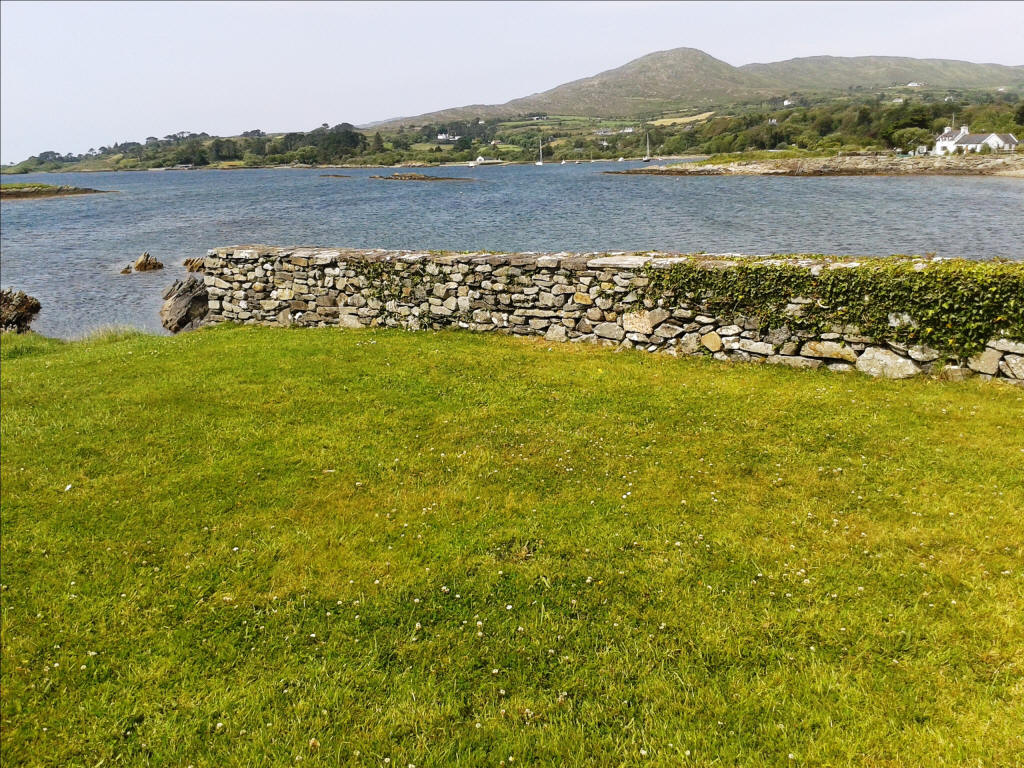 Sheeps Head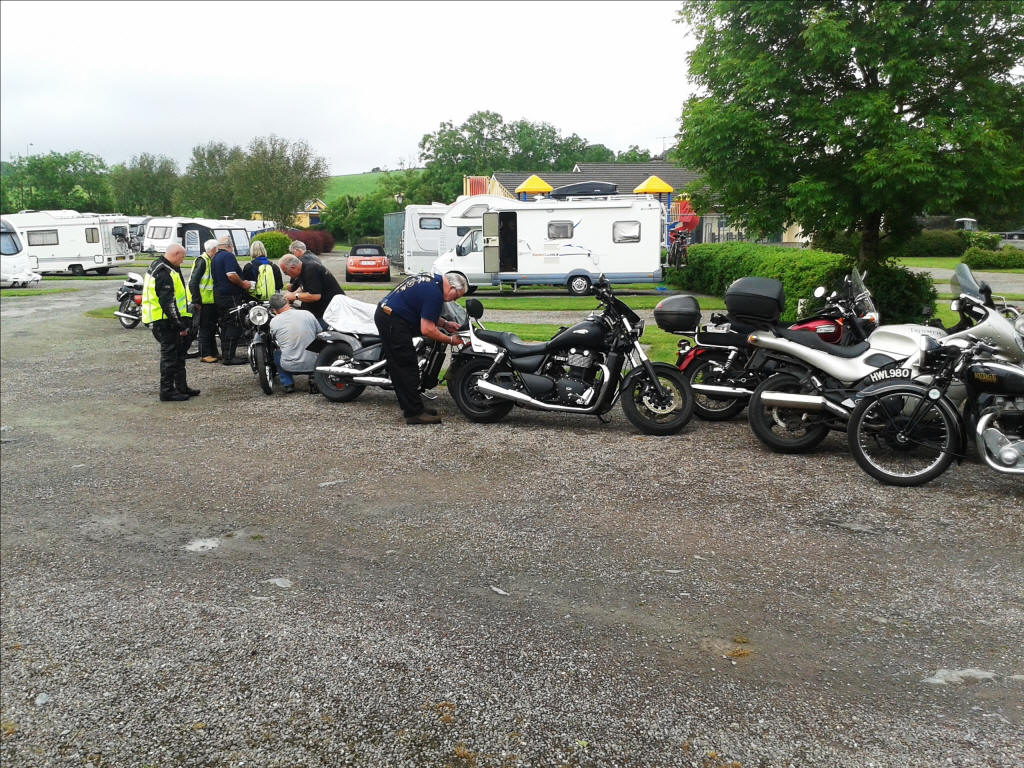 Rudge Camp site before the start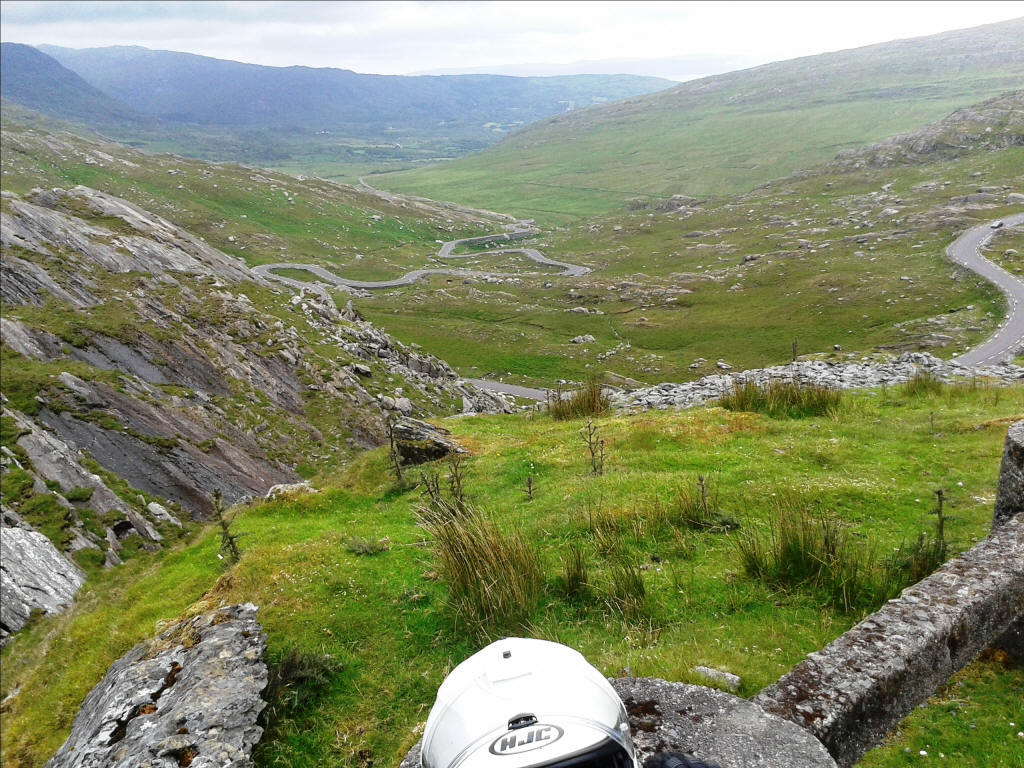 A view of the famous Healy Pass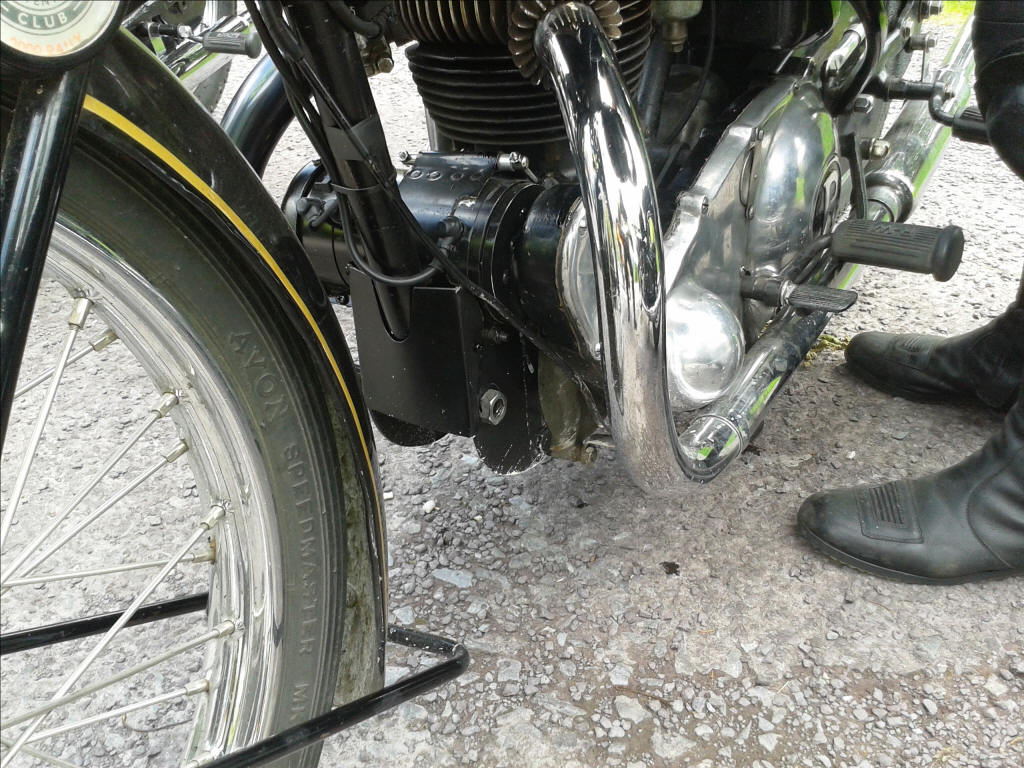 Rudge Ulster with Dynastart fitted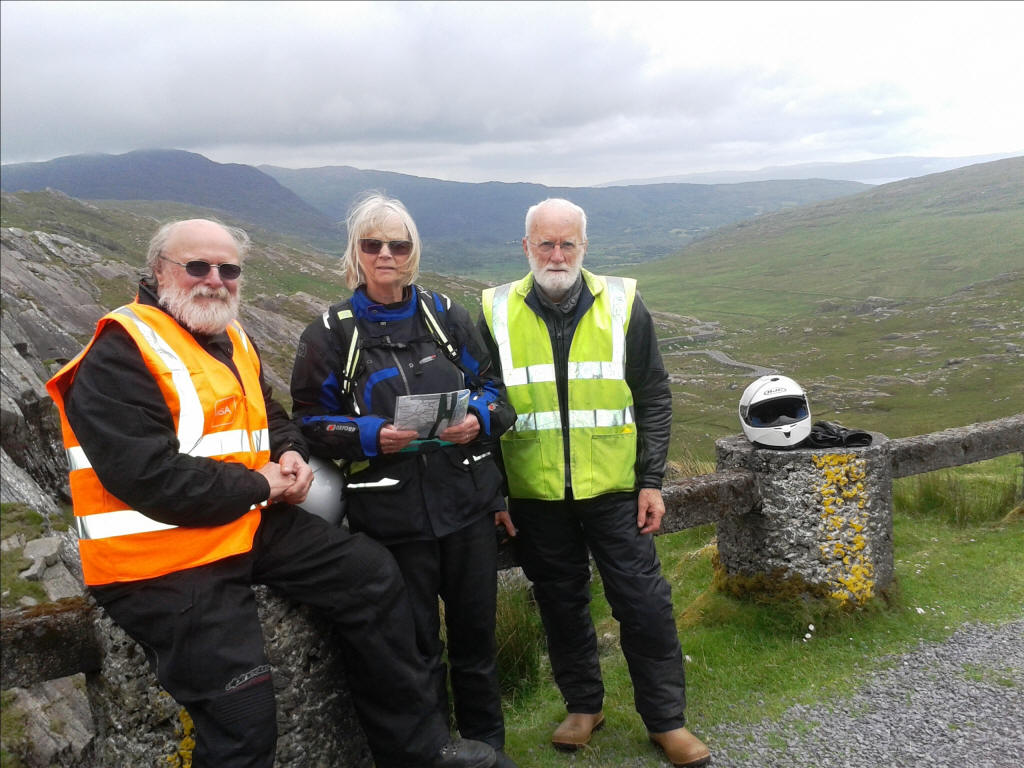 Pat and Shelley with Patrick from Cork at top of Healy Pass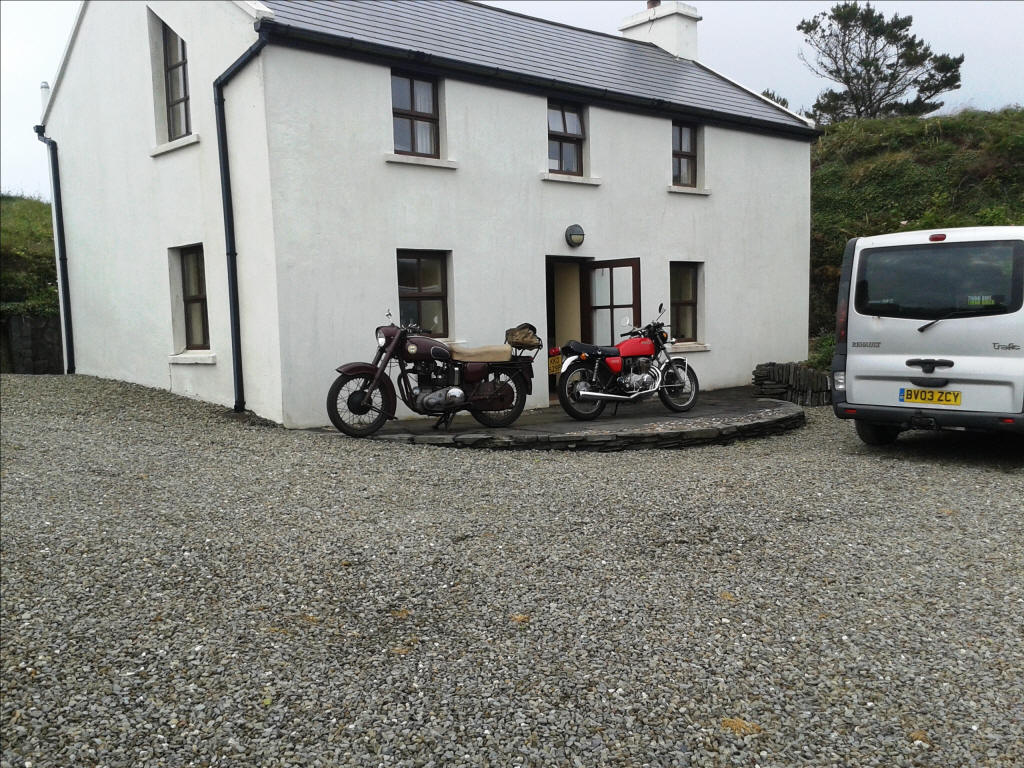 Our accommodation for the week off Talispeen Beach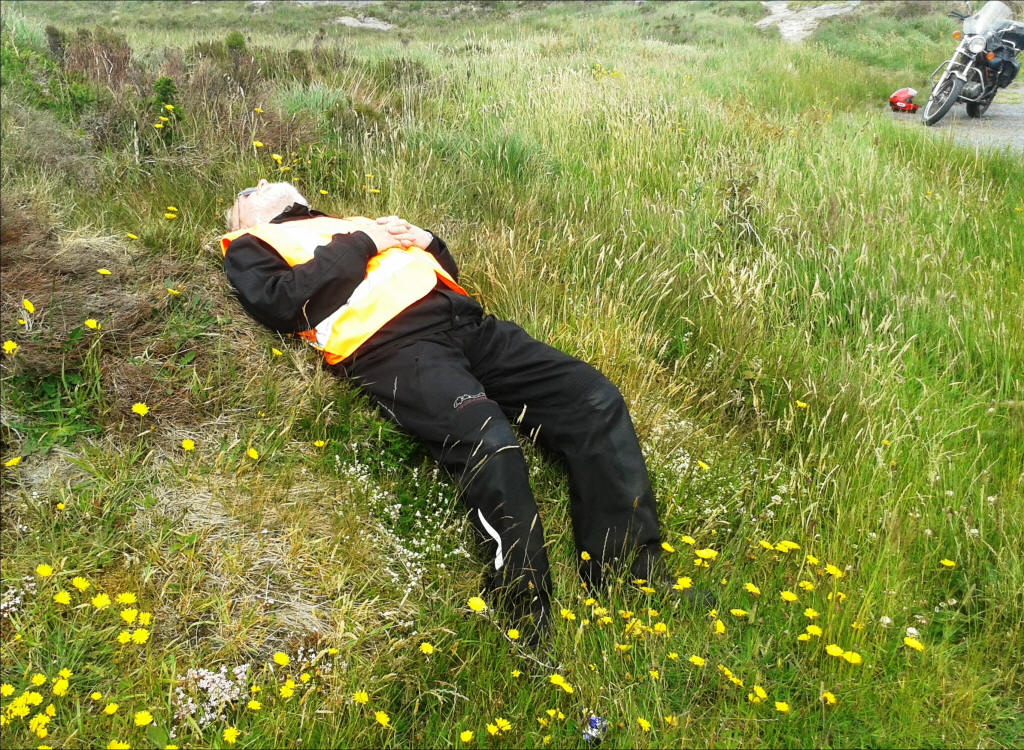 Pat having a zizz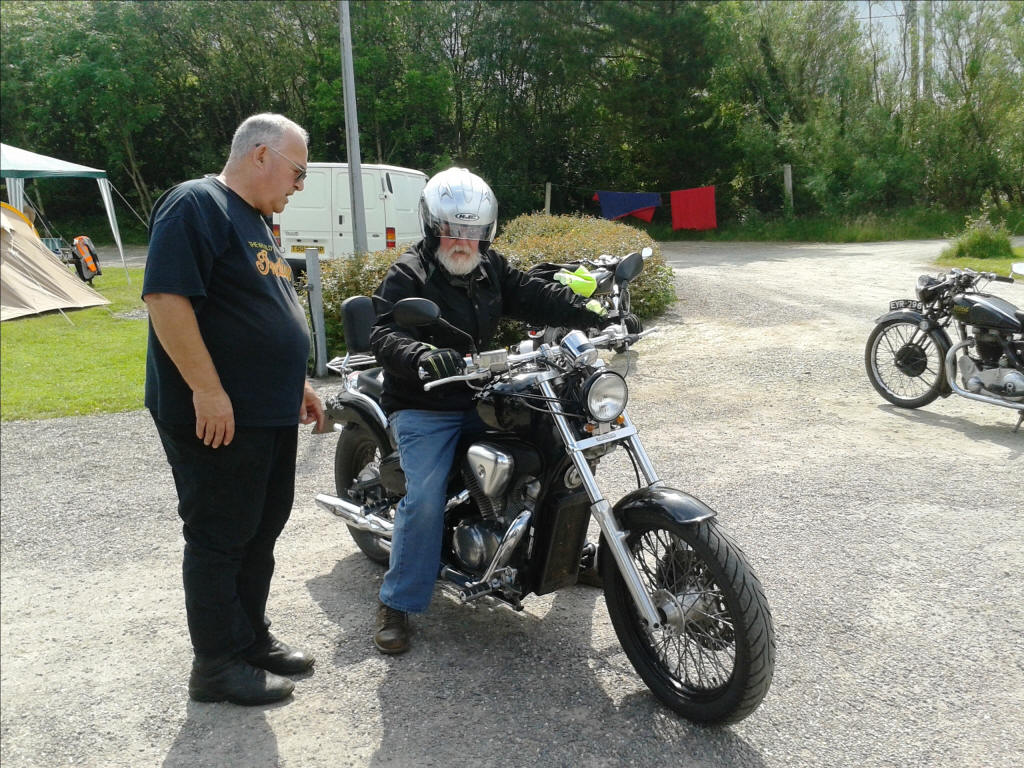 Pat getting Honda lowdown from Ken Ashton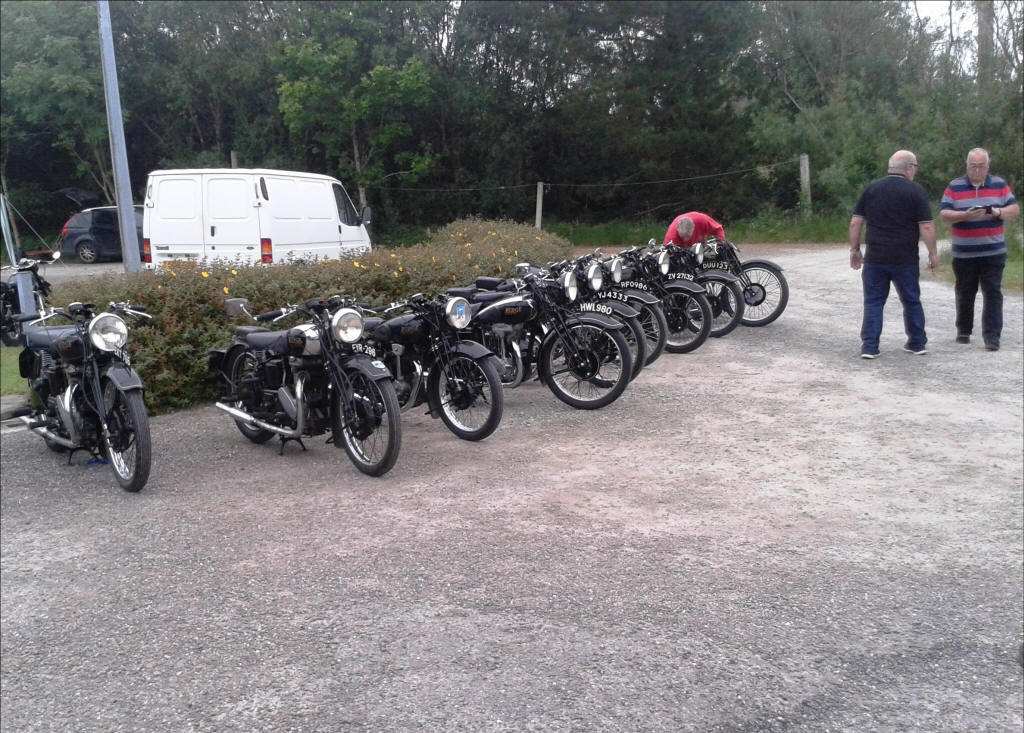 The Rudge line up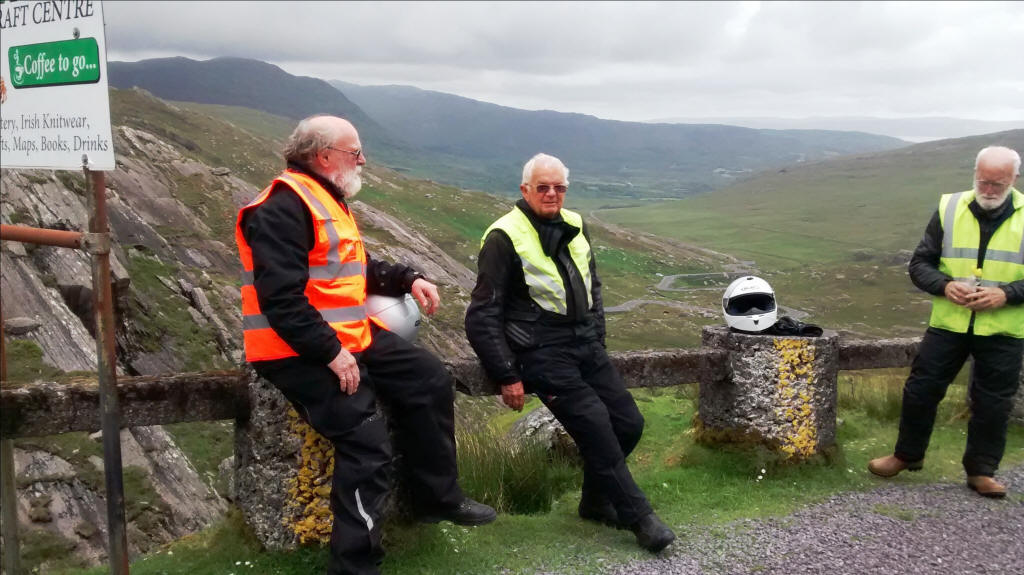 Top of Healy Pass with two Pats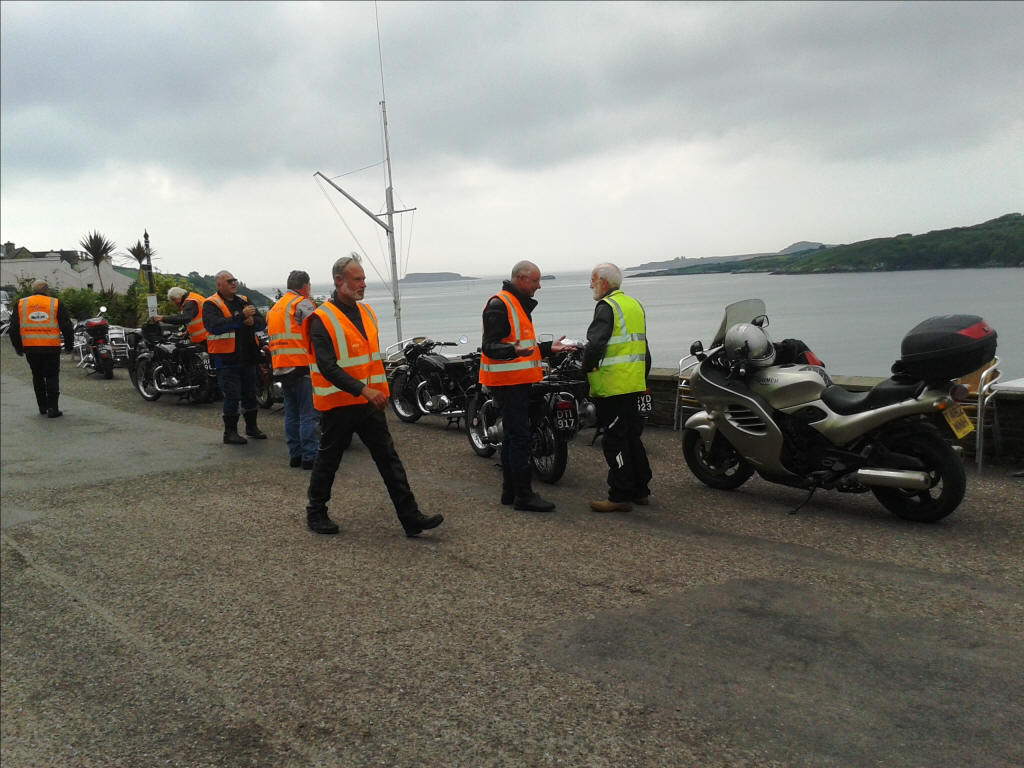 On route to Kinsale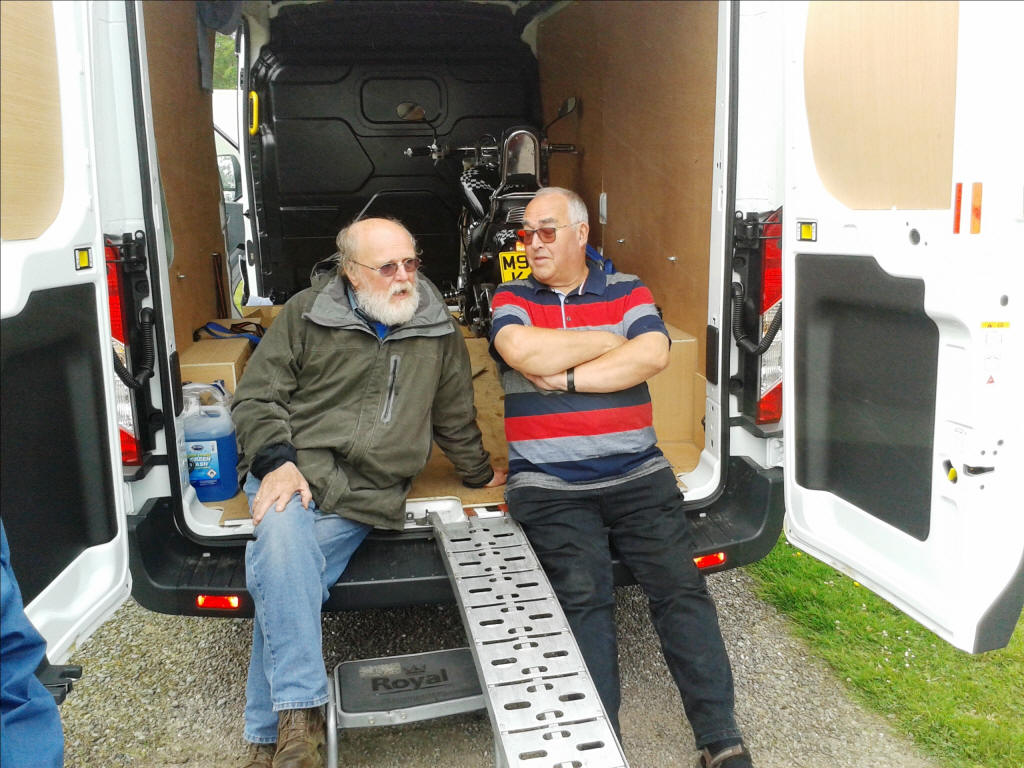 Pat and Ken chewing the cud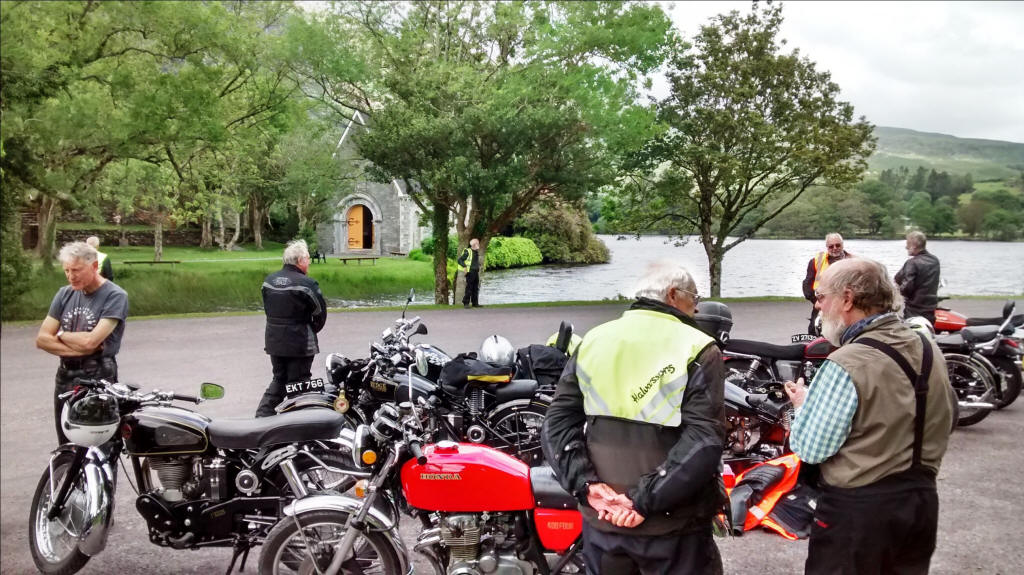 Pat and me at Gougane Barra church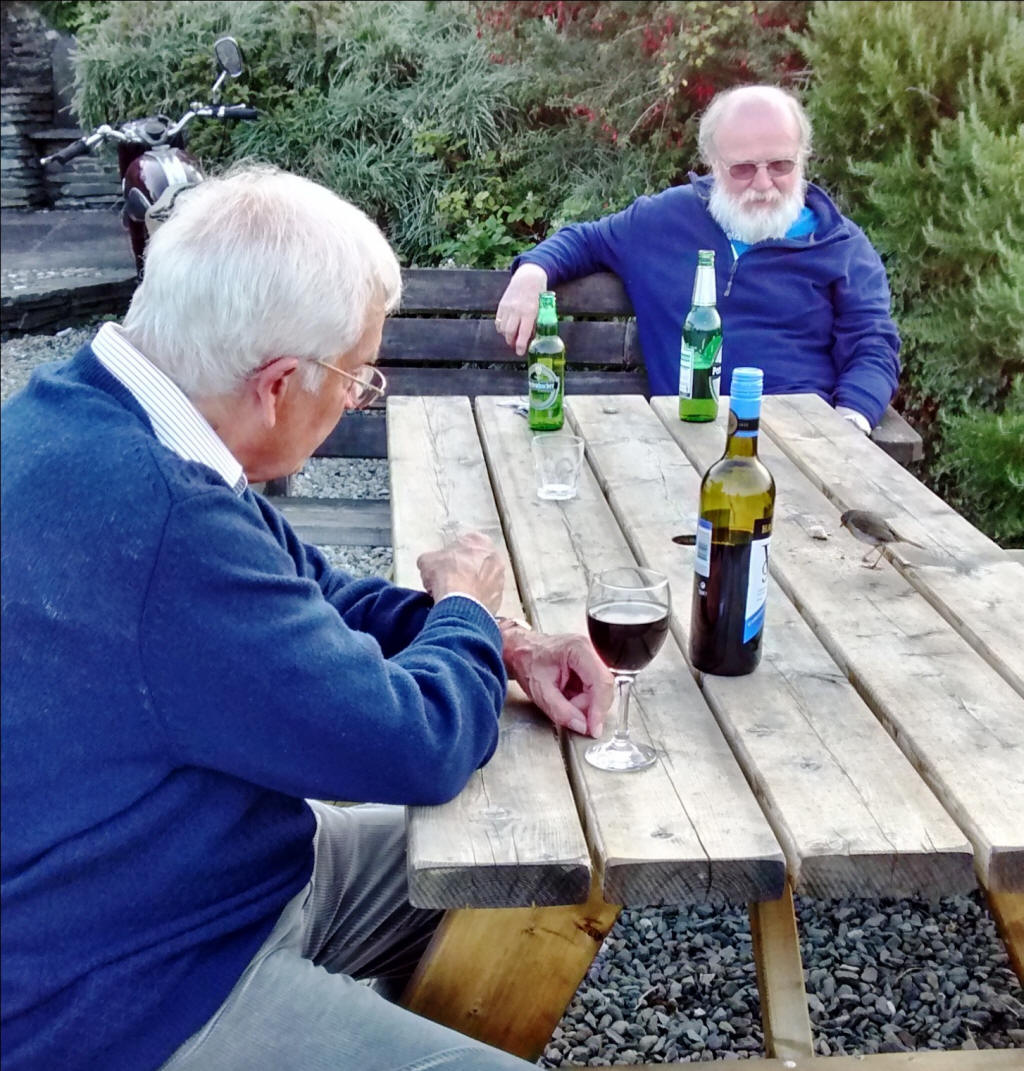 We had a pet Robin who came and sat on the table every time we used it looking for tit bits, should that be Robin bits?
---