ACU National Road Rally 2019
The ACU National Road Rally took place over the weekend of July 6th - 7th. Four members of the Burton Section of the VMCC took part competing in the "Daytime category starting at Midday and finishing at 10.00 pm. Clive Martin and Mick Leach rode together and started at the Leicester control. John and Eddy Grew also rode together and started at the Uttoxeter control.
Mick wanted to achieve the platinum day award which involved completing special tests at the rear of Leicester county offices at Glenfield. Mick didn't realize that 13 was going to be unlucky as this was to be his thirteenth start to the rally.
Clive and Mick's planned route:
| | |
| --- | --- |
| Control | Miles |
| LEICESTER (Start) | 0 |
| DUNCHURCH | 25 |
| GAYDON 22 | 50 |
| COLESHILL | 75 |
| REDDITCH | 100 |
| KIDDERMINSTER | 125 |
| CRAVEN ARMS | 150 |
| WELSHPOOL | 175 |
| WHITCHURCH | 200 |
| CONGLETON | 225 |
| UTTOXETER | 250 |
| BURTON ON TRENT | 270 |
After a damp ride as far as Welshpool the weather began to improve, Clive and Mick realised time was getting tight. The leg from Whitchurch to Congleton was expected to take well over an hour as the Congleton checkpoint was at Rushcliff at the top side of Rudyard lake. Soon after they left Rushcliff at around 8 15pm Mick had a flat front tyre. It was decided after the recovery had been arranged that Clive should continue arriving at Burton at 9 35pm. Mick spent three hours sat on a wall waiting for the recovery with only an owl for company and got home at 12.15am. Maybe he will have better luck next time.
Clive did ring Mick to let him know of his safe arrival and also that he was about to enjoy a pint we don't know what was Mick's response to that part of the conversation! (My guess is that it wouldn't hav been suitable for publication. Ed.)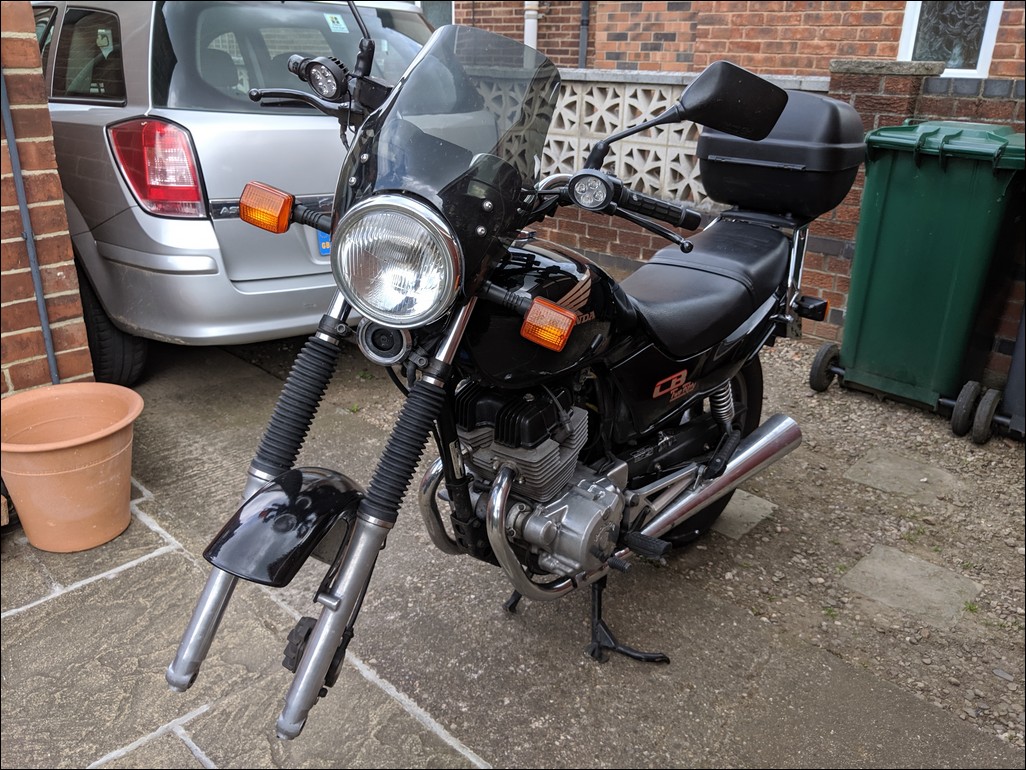 Mick's forlorn Honda.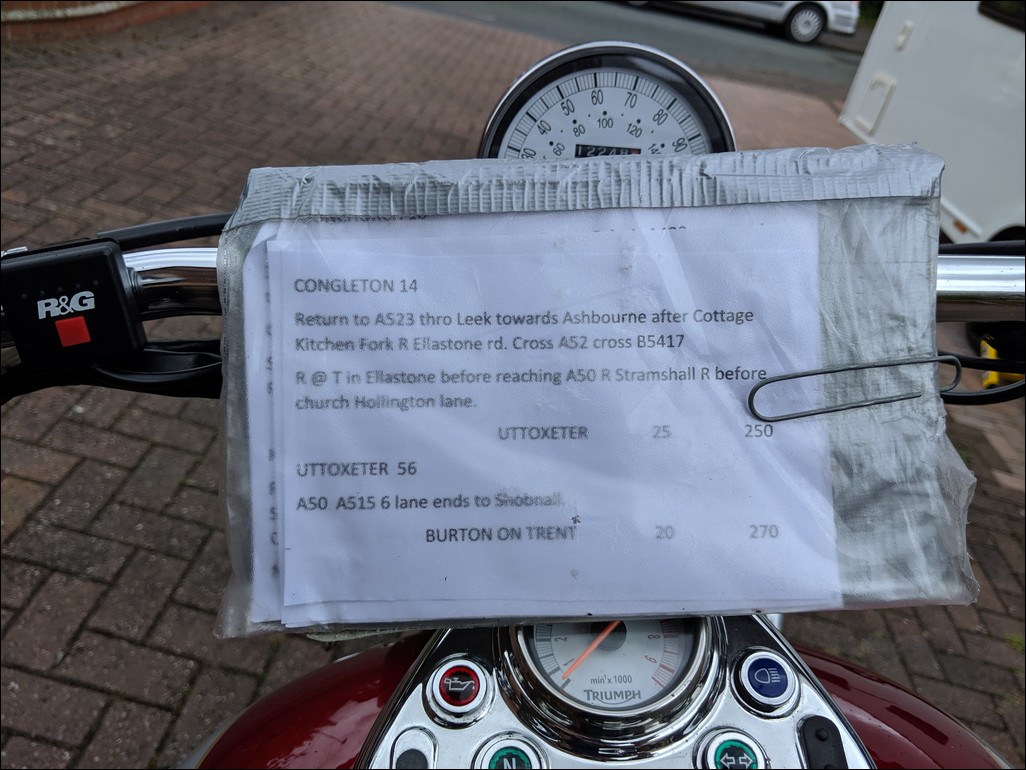 Clive's Navigation Sheets.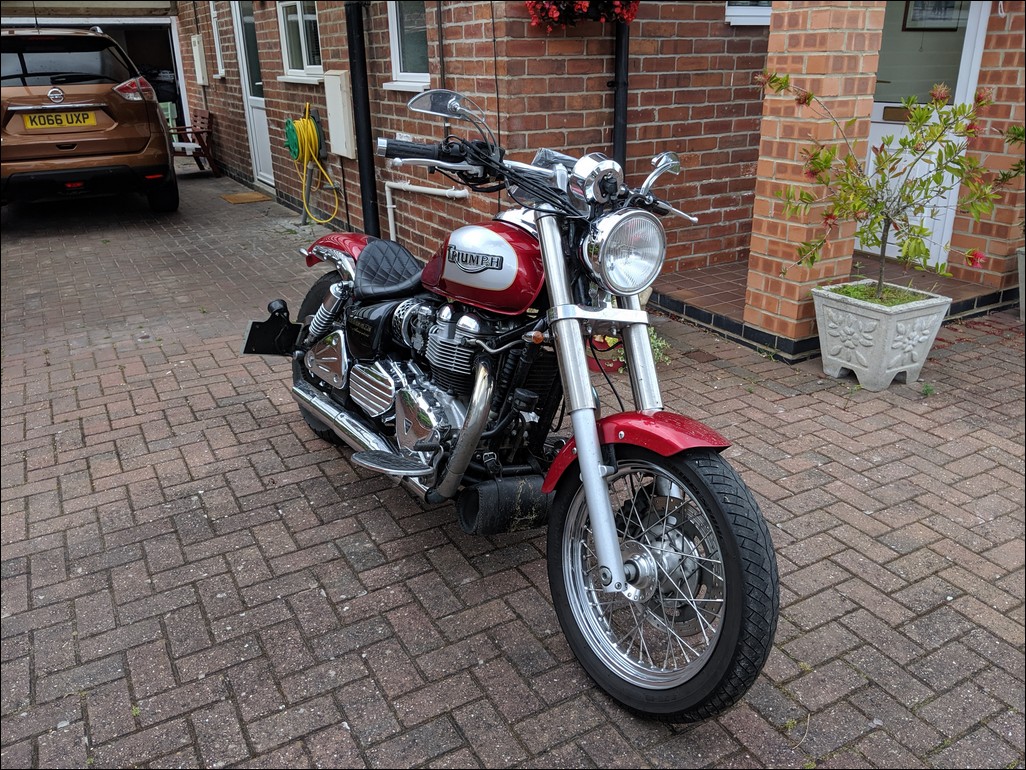 Clive's Triumphant steed.
---
John and Eddy's planned route: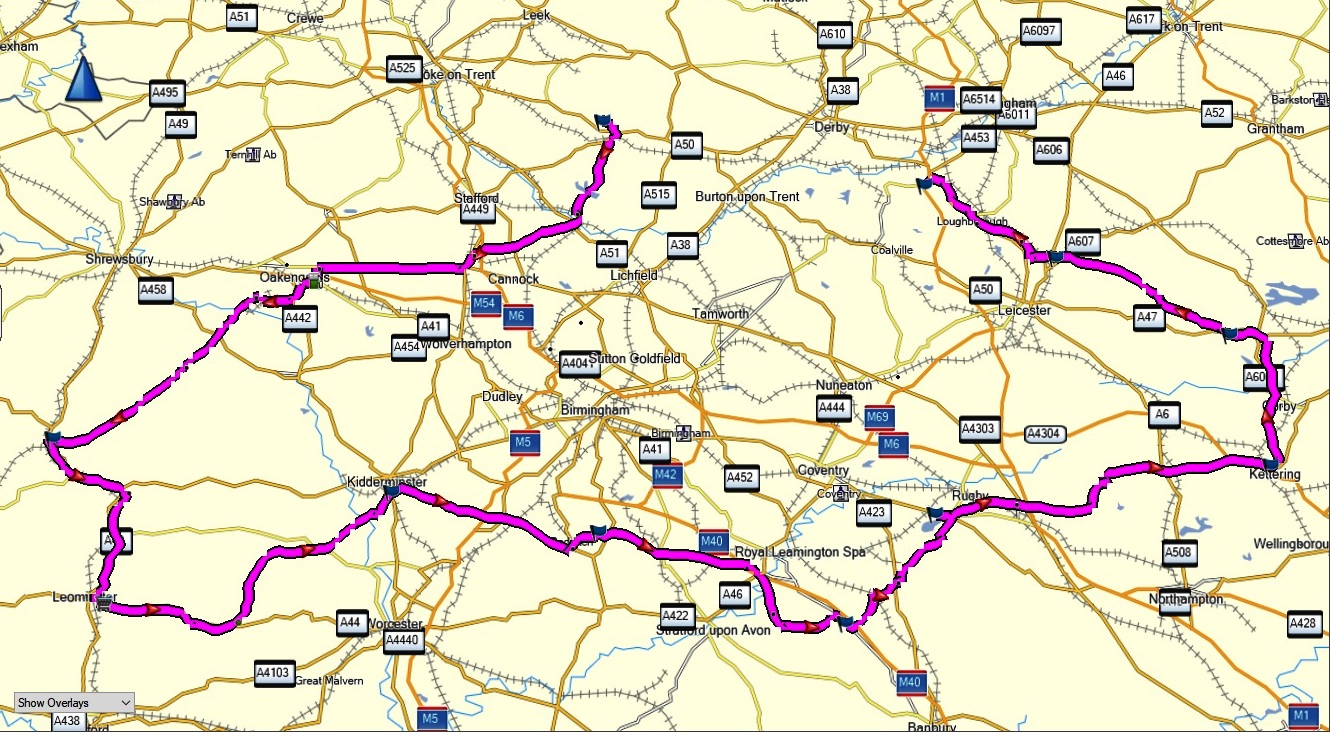 | | |
| --- | --- |
| Control Name | Between Controls |
| Uttoxeter | |
| | 30 |
| Telford | |
| | 25 |
| Craven Arms | |
| | 25 |
| Leominster | |
| | 25 |
| Kidderminster | |
| | 25 |
| Redditch | |
| | 25 |
| Gaydon | |
| | 25 |
| Dunchurch | |
| | 25 |
| Kettering | |
| | 25 |
| Belton | |
| | 25 |
| Syston | |
| | 25 |
| Kegworth | |
| | Total Miles =280 |
John and Eddy several ACU National Road Rallies back in the 1970's when your target for the route between controls was 600 miles in 24 hours. In 2017 we decided to have another go at the rally with the new format which included options for a shorter a daytime 10 hour category. For this rally, our third using the new daytime format we started at the Uttoxeter control. This control was actually located a mile and a half from the A50 in a field at Stramshall. On our way to the control it started to rain and although it was not too heavy it wasn't ideal. The control was notable for having two huge pigs in a paddock just behind the control tent that you can see behind us in the photograph below.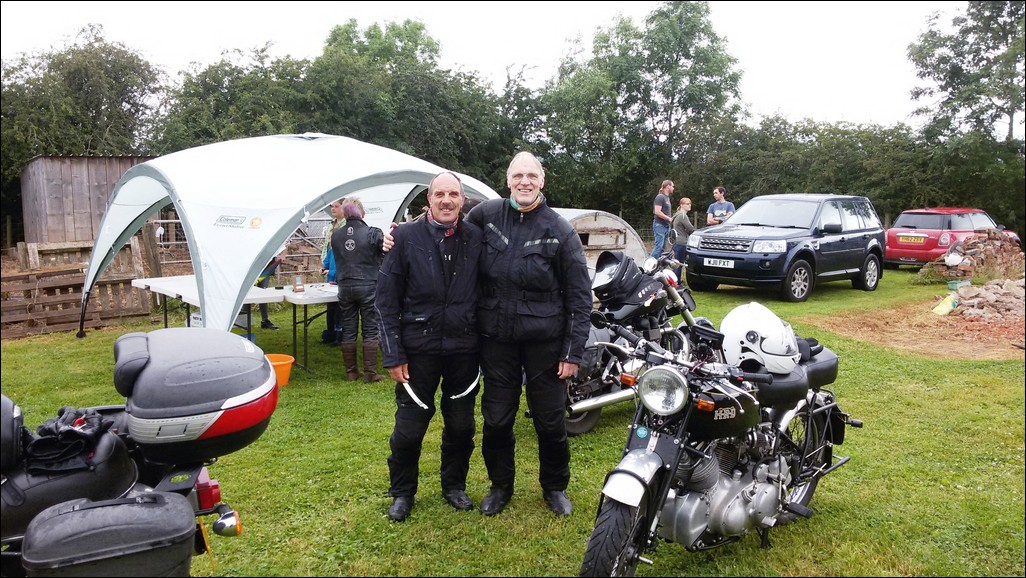 John and Eddy in front of the Uttoxeter control at Stramshall.
The rain ceased as we got further around our route with a few wet roads showing that we had just missed a shower. We stopped for fuel after a few controls and had a brief chat with another rider on the the rally who had also stopped for fuel. This was a lucky break as he told us the road that we were planning to use to our next control was closed due to an accident. We were able to modify our route to the next control and avoid wasting some time.
At the Redditch control we bumped into Mick and Clive. The only machine problem we had was at Redditch as when we stopped John's Harris Matchless engine didn't, it kept cranking away. The starter solenoid has stuck so I got two cups of tea while John did a quick fix by disconnecting the solenoid.
This year we seemed to be short on time so we kept pressing on "briskly" to try to keep to schedule. Where possible we had chosen roads that were more fun to ride but a few times we dropped onto some motorway for a few miles to make up time or avoid large towns.
Forward planning before the event by researching the exact location of the controls pays off time wise too. Google maps is a good tool for this if you are on the internet. If you have to stop and ask someone if they know where so and so it is sods law that they are, "not from around here" or if they were going there they wouldn't start from here!
When we got to the Kettering control we decided we had made up enough time for a more leisurely stop. The control was at the AJS & Matchless Club Spares HQ where we could make use the toilet (definitely the first priority!) and make ourselves a cup of tea. Many of the controls had free tea and biscuits provided by the volunteer control staff.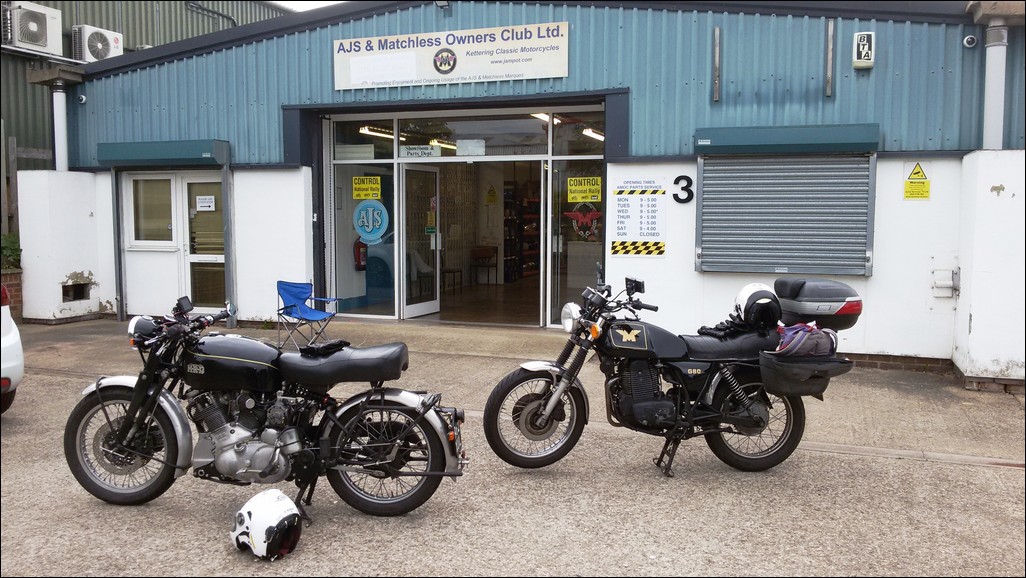 Eddy's Vincent Rapide and John's Harris Matchless at the Kettering control.
We filled up with fuel again as we left Kettering and set off for our two final controls before the finish control at Kegworth. The road we used from Belton in Rutland to Syston was narrow but nice and twisty, most enjoyable. By this time the sun had put in a welcome appearance although the low evening sun could catch you by surprise when rounding bends.
We reached the final control at the Moto Services at Kegworth with half an hour to spare before the 10.00 pm cut off This gave us ample time to get our control cards stamped for the last time and sign off before going into the services to celebrate a successful and enjoyable ride with yet another cup of tea. Eddy.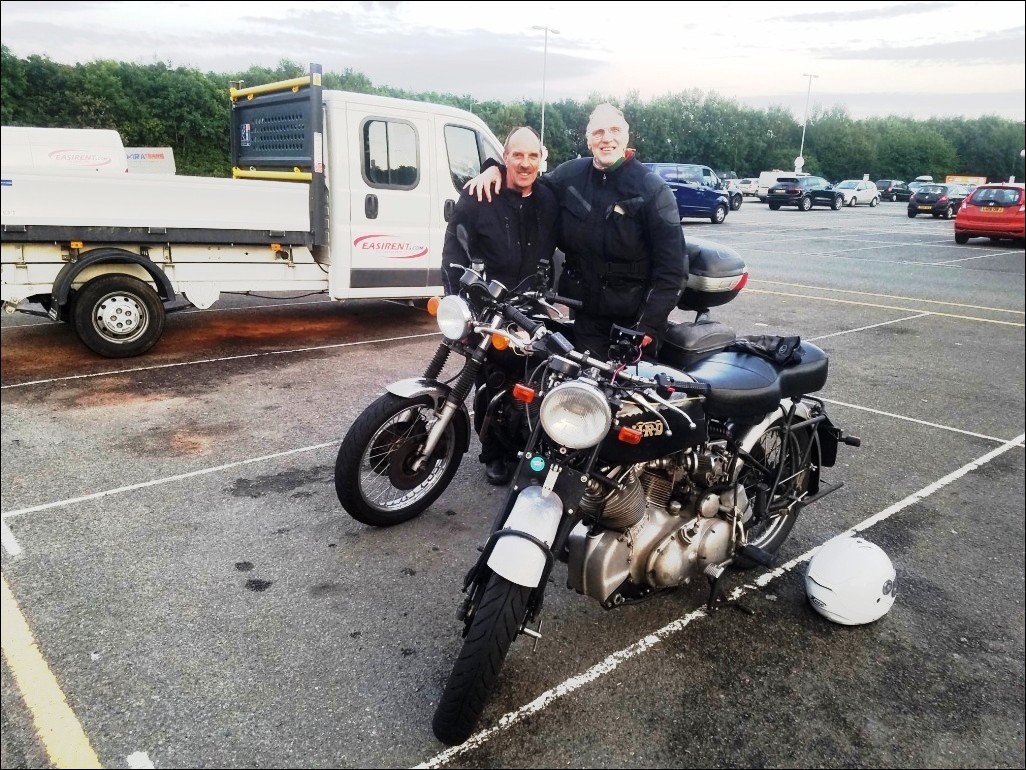 At the finish at Kegworth. Still smiling.
---